Rain Stops Carpenter's Top Speed Friday, Still Runs 226.768 MPH
Rain Stops Carpenter's Top Speed Friday, Still Runs 226.768 MPH
Tom Blattler
Ed Carpenter Racing
May 17, 2013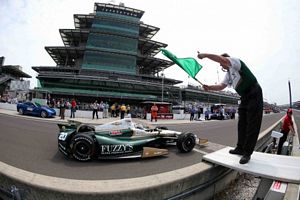 Fuzzy's Vodka co-owner Stuart Reed throws the Green Flag Friday at IMS
May 17th 2013 - INDIANAPOLIS – Rainstorms finally hit the Indianapolis Motor Speedway as "Fast Friday" practice runs were halted in the mid-afternoon. But the added turbocharger boost for the engines made for exciting and fast lap speeds before the rain hit.
Ed Carpenter, the last 500-mile race winner in the IZOD IndyCar Series, quickly jumped into the 226-mile per hour range with a speed of 226.768 and a four-lap average of 226.4 in a simulation qualifying attempt. Right before the rain began to fall, the driver of the No. 20 Fuzzy's Ultra Premium Vodka Chevrolet looked to jump into the 227s as he clocked a 226.6 on his first lap out at 3 p.m.
The Butler University grad felt rain drops on his second lap in another "sim" 4-lap run and had to pull his machine into the pits for the day. Overall, the ECR crew believed that qualifying simulation test run would have improved Carpenter's speed considerably.
The series' only team owner/driver says he thinks the pole position is wide open for Saturday when the track opens for time trials at 11 a.m.
"It's hard to have a good idea where everyone is at for speed right now," said Carpenter. "I saw some people get in some legitimate 'no tow' laps. There are some good cars that I don't think got a 'no tow' lap too. It's very difficult to predict anything right now. I think the pole will be in the high 227 or low 228 for four laps. I have a good idea of what I think we can run on Saturday, but I'm not sure what everyone else can do."
Carpenter also thinks the weather could be a big factor Saturday. Going out early in qualifying could be a big advantage.
"Of course, weather will be a big component on how qualifying plays out," he said. "Until everyone goes out in qualifying, you really don't know how good you are with your car. It's really fun for the next two days. It's a lot of pressure too. There is more pressure to qualify for me than the race. I love running fast around here. Having the turbo boost turned up for the Chevy is awesome. "
On Friday, Fuzzy's Vodka co-owner Stuart Reed threw the green flag on "Fast Friday" activities and enjoyed watching Carpenter's afternoon laps. Fuzzy's Vodka is the official vodka of the 2013 Indianapoli 500-Mile Race, set for noon on May 26.
Carpenter's children, Makenna and Ryder, drew the ECR car numbers for the qualifying line Friday night and the 20 car will be 53 in the qualifying line with 20T at 36.
E.J. Viso clocked the fastest lap of the day Friday at 229.537 m.p.h., the best speed of the week in his Chevy-powered Andretti car. Marco Andretti was second at 228.754 followed by Carlos Munoz at 228.520, Will Power at 228.401 and J.R. Hildebrand at 227.549. The eight top cars were Chevrolet-powered.
Connect with The Crittenden Automotive Library