Carpenter Boosts His Speed at Indy Thursday with 224.371 MPH Clocking
Carpenter Boosts His Speed at Indy Thursday with 224.371 MPH Clocking
Tom Blattler
Ed Carpenter Racing
May 16, 2013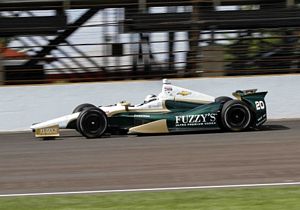 Carpenter Boosts His Speed Thursday at Indy Practice
May 16th 2013 - INDIANAPOLIS – The weather forecast looked ugly Thursday morning for the teams at the Indianapolis Motor Speedway. Thunderstorms were predicted for most of the afternoon and practice runs looked to be questionable.
So much for the forecasters though. Another beautiful afternoon greeted the racers in their six-hour practice session in preparations for the 97th running of the Indianapolis 500-Mile Race.
Ed Carpenter produced his best speed of the week in the No. 20 Fuzzy's Ultra Premium Vodka Chevrolet with a 224.371 miles per hour clocking later in the afternoon. The ECR crew enjoyed a full day of testing for the 200-lap "Greatest Spectacle in Racing" set for May 26. Carpenter recorded 66 laps Thursday after 107 circuits on Wednesday.
Friday's weather might be a little edgy for the popular "Fast Friday" practice when teams apply their qualifying setups. The teams will receive nearly a five mile per hour increase with their engines for qualifying on Saturday, as the engine builders raise the turbocharger boost.
Top speed of the day Thursday was posted by rookie Carlos Munoz with a 225.163 m.p.h. followed by Ryan Hunter-Reay at 225.006, Marco Andretti at 224.882, Scott Dixon at 224.468 and Helio Castroneves at 224.457. Carpenter's 224.371 lap was eighth best in the 33 drivers on track Thursday.
Qualifying for the first 22 positions gets underway at noon Saturday, May 18, with the pole position time trials at 4:30 p.m. Bump Day starts at noon on Sunday.
"It was another pretty productive day, said Carpenter. "We learned some more things for the race. The last two days we have done some positive things as well as negative ones. And you do learn from the things that don't work. I think we are zeroing in on things right now. We are getting closer on the setup we like. I'm not sure it's where we need to be because some of these guys are very quick. There are times that I think we are very good and then other times I am worried. I think that really shows the depth of the field. It's very competitive. I do feel better with each day right now. The forecast was for rain today but we dodged it. Conditions were pretty good today. Friday's forecast doesn't look good again. But who knows about the weather here."
Connect with The Crittenden Automotive Library