Carpenter Sets Top Speed In Opening Day of Indy Practice Saturday
Carpenter Sets Top Speed In Opening Day of Indy Practice Saturday
Tom Blattler
Ed Carpenter Racing
May 11, 2013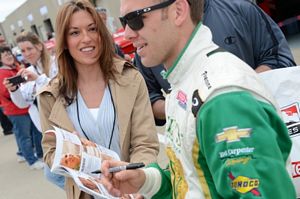 Ed was the fastest on opening day of Indy Practice
May 11th 2013 - INDIANAPOLIS – The IZOD IndyCar Series' only team owner/driver, Ed Carpenter, began the first oval laps of the 2013 campaign Saturday the same way he finished the last lap of the 2012 oval race, P1.
The No. 20 Fuzzy's Ultra Premium Vodka Chevrolet racer drove only 21 laps in the opening practice day for the 97th running of the Indianapolis 500-Mile Race, but the Auto Club Speedway race winner recorded the fastest speed among 16 drivers who clocked in at the world's most famous racing plant, the Indianapolis Motor Speedway.
The Butler University graduate posted a top speed of 220.970 miles per hour to nip second-year driver Josef Newgarden's 220.920 reading in various weather conditions. The famed two and a half mile oval saw portions of sun, rain, clouds and wind throughout the afternoon session that began at noon and continued until 6 p.m.
Carpenter, the only USAC oval track veteran in the current Indy 500 field, opened his practice runs with a 217.727 lap prior to the two-hour Rookie Orientation Program. Later in the day, Ed jumped to third on the charts with a 219.706 at 5 p.m. and, twenty minutes later, Carpenter notched the 220.970.
Cooler weather is predicted for Sunday's afternoon practice round before a warm front is expected in the middle of the upcoming week. In last year's race, Carpenter, in his rookie year as a team owner, drove from his 28th starting position to third with 20 laps remaining before a broken front adjuster caused him to spin. Carpenter finished 21st in the 2012 Indy 500.
"There were some things we wanted to try today regardless of the weather," said Carpenter. "The weather doesn't look good for Sunday either. So we ran through a couple of settings that we hadn't done last year. It's still very early in the process. We got what we needed for today. So I am happy with that. We really aren't worried about trying to get a fast lap right now. We certainly want to be competitive, so if we are at the top each day, that will make us happy as we move towards qualifying. We make so many plans coming into the month of May and we get our competitive juices flowing. You have to try very hard to stay with your plan and not move off of it. It's not even a nice day out here and I'm very exciting to be here and driving on the track. We point so much for this event each year and our whole team is very anxious to get on the track. Not everyone ran today but I wanted to get a couple of things done today. Being the team owner, I can make the call when we go out on track. And I felt with Sunday's weather being not as good, we should get in some laps today."
Connect with The Crittenden Automotive Library