Meet the Crew: Albert Gray
Meet the Crew: Albert Gray
Tom Blattler
Ed Carpenter Racing
May 2, 2013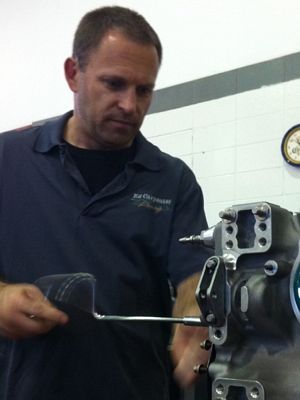 Meet the Crew: Albert Gray
May 2nd 2013 - ALBERT GRAY, Gearbox Mechanic
Gray has been a stable in IndyCar racing since 1996 including participating in the CART Series, ChampCar and IZOD IndyCar Series…. Has been a veteran in all forms of pit stops including changing tires, fueling and airjack…. Started in motorsports in 1993 with the Bridgestone Racing School in 1993…. Began his racing career as a general mechanic but has concentrated on gearbox construction since 2004.
How did you get into racing?
"Initially I was a fan. I enjoyed watching the sport in late high school and early college years. I got caught into the CART era. That would have been in the mid-1980s. I have always been the type of guy that if I like something, I want to do it. When I was in college, I couldn't find anything I was passionate about. I did get a business degree in college but I knew before I left school that I wanted to get into racing. So I got involved in the Bridgestone racing school which was about three hours away from my home. It was in the apprentice program. Worked as a mechanic and got to driving a little too. Then I went to the Skip Barber School and spent three years there. I got more of a well-rounded racing education then. So I wanted to make the move to a racing team and sent out a million resumes. I got a reply from Penske Racing in CART. I was lucky enough to skip the Atlantics and Indy Lights and went straight to a CART team. I was there a year but I really didn't know what I was doing. But I learned a lot there and continued to work my way up the ladder."
Have you always been a mechanic before going into the gearbox activities?
"I was involved as a mechanic with several teams and, in 2004, I had the opportunity to begin working on the gearbox side. I really enjoy the gearbox side because I get to work with several elements of the team. I'm working with the engineering staff on the building of the gearbox's and the gear ratios. Almost every element I'm coordinating with the engineers. I also work with Tim (Broyles), our team manager, on the logistics side of it too. I work with our crew chief Bret (Schmitt) on the planning and the moving of parts. It gives me the opportunity to work with our management group, our engineering group and the mechanical side too." When the cars became a new design in 2012, was the gearbox design different too? "It was completely different and I was really looking forward to it. Prior to that, I had only worked on the one type of gearbox. I knew and talked to guys who had worked on a variety of gearbox's so I was anxious to work on the new one. There were advantages and disadvantages to it. It was a pretty steep learning curve at first. We didn't even have a manual on the new one. It was three months before we had something to work off. So you had to take it apart and figure it out. It was like a $50,000 puzzle and, if you get something wrong, it gets expensive. That was challenging initially but we got through it. By the time they gave us the manual, we said that 'we could have written this.'"
What do you like about Ed Carpenter Racing now?
"I like it. Everyone here is pretty calm, cool and collected. We have a very experienced group and you can tell with how we go about things. We came from almost nothing with a new team last year and we had to adapt to each other. And, for the first season, I thought we did a very good job. Then during the winter, we were like starting over as we put everything together and used every element possible to get ready for the 2013 season. We had one of the most aggressive and busiest off-seasons I have ever had. It is a reflection of the team and what the team's goals are for this year. It shows how hard they want to work at accomplishing the goals. As an employee, that is a sign that this operation is really serious about its program. I feel proud to be a part of it."
We are going to Brazil this week. You have been several things including the Rios races. How do you like it down there?
"It's Brazil and it is a big exotic land. You hear about the Brazilians being bad-ass drivers and the people are into the racing. I play soccer too and the Brazilians are very passionate about their soccer too. I would hear about the country but I really didn't know that much about it. So actually being there was a great experience. The Rio events were more fun because you stayed at the hotels on the beach. There were a lot more things going on outside the track at Rio. In Sao Paulo, the hotel (Holiday Inn) is inside the racing circuit. We don't really get outside the track and the hotel there. There isn't the oceanfront community like Rio, so we pretty much stay within the hotel for our meals and other things. I enjoy going there because the fans are very cool and the racing is good. It's just different now than the Rio races."
What are the highlights of your racing career so far?
"The biggest so far was being part of Rahal Letterman Racing when we won the Indy 500 in 2004 with Buddy Rice. I was working on Roger Yasukawa's car but it was a great team effort with three top-ten finishes. Actually Roger finished a few seconds behind Buddy in that race. And we had two extra pit stops in that race or we could have finish higher. I worked with Vitor (Meira) there too. We finished second in 2005. I have had some good runs at Indy. It was great to win with our team last year at Fontana too. It was weird because you could see it coming. In my position with the air jack, I don't think I have ever seen eight more solid, consistent pit stops in a race like we had at Fontana. We had some 'kick butt' stops in a row. We were also there with the setup and the car. Everyone was staying calm. We made adjustments throughout the race. So I had the sense from the beginning of that race that we were going to be a role player in that event. For Ed, to be a driver and team owner in its first year, how many guys can say they accomplished that? So being a part of that is special. You can tell a lot by members of other teams coming up and congratulating you on the win. Other people thought it was good for the series. It was so good for the team too."
You have worked for the big teams and the little teams, what was the feeling after the Fontana win?
"It's funny. Having worked for the big teams as well, I've seen both sides of it. Everyone else wants to hate Penske or Ganassi. But I have worked there and seen how they operate and what they do. They work really, really hard. They don't achieve the success they have because they are richer. They just work hard to win. But if we can do that too, we can achieve that as well. So I have a little different perspective on it. And this team is working very hard right now."
What is the toughest part of your job?
"You tend to do a lot of juggling during my job. I work with a lot of people and it takes a lot of coordination to get into one solid plan. We try to get everyone on the same page. It takes the management group, the engineering group and the mechanical group all getting things in order and I'm involved in many side of the operation then. We look and see if we are going to get through the race weekend okay with the gearbox. Or are we going throw a ring and pinion? Sometimes it gets very hectic and other times we have three hours between sessions. We are pushing the car to the garage and they are telling me to change gears immediately. But we have a procedure we work by and I adjust to what is needed at the time. I would rather front-load the work load from my side. I want to have the gearbox apart and I can be ready to go when they setup the new ratios or something else. It is better for me to be sitting there waiting to go than the team waiting for me. I don't think we have been late for a session so our planning to pretty good now."
Connect with The Crittenden Automotive Library