ECR Tries Fuel Strategy At Barber, but Carpenter Has To Settle for 22nd at Finish
ECR Tries Fuel Strategy At Barber, but Carpenter Has To Settle for 22nd at Finish
Tom Blattler
Ed Carpenter Racing
April 7, 2013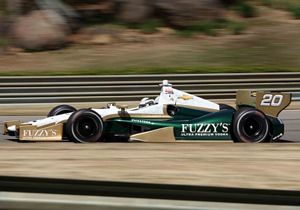 ECR Tries Fuel Strategy At Barber, But Carpenter Settles for 2nd at the Finish
April 7th 2013 - LEEDS, Alabama – Ed Carpenter and his ECR/Fuzzy's Ultra Premium Vodka crew made a calculated plan entering Sunday's Indy Grand Prix of Alabama, the second round of the 19-race IZOD IndyCar Series.
The ECR team hoped to stretch their fuel mileage in the 90-lap feature for a shot at a good finish late in the contest over the 2.38-mile, 15-turn rolling hills course east of Birmingham.
The strategy looked good early with an extended yellow flag period after the opening lap. Carpenter pitted twice in the caution session to top off his car's fuel load and lengthen the team's pit stop window. By lap 29, Carpenter had advanced to ninth from his 26th starting position, as the Firestone "red" tires proved to be a solid compound on the sun-drenched pavement.
Moving to the harder tire for Carpenter's second stint on lap 33 proved to be a tougher battle with the No. 20 Fuzzy's Ultra Premium Vodka Chevrolet. The Firestone "black" tires didn't have the traction and Carpenter lost ground on the field.
The Butler University graduate hit the pit area again on lap 61 and returned to the "red" tires for the final 29 laps. Unfortunately, the track position was lost for Carpenter and his Fuzzy's Vodka team as he made a valiant try to regain positions. At the checkered flag, Ed had to settle for 22nd position.
Pole winner Ryan Hunter-Reay held off the challenge of Scott Dixon to capture the Indy Grand Prix of Alabama. Former Barber winner Helio Castroneves took third place followed by Charlie Kimball and Will Power. It was the second win in two races for Chevy and Andretti Autosport.
The IZOD IndyCar Series now travels to the West Coast for the legendary Long Beach Grand Prix and the 40th edition at the "Roar by the Shore." The famed street race weekend in the Southern California area is set for April 19-21.
"We tried to top off the fuel tank early under yellow and then do a two-stopper," Carpenter said. "But the Fuzzy's car wasn't very good on the Black Firestones. I thought the car felt good with the Firestone Red tires. We ran some pretty consistent laps for a while there. We committed to a strategy with just two stops and it just didn't work out for us. This track is tough and it is very hard to move forward. We had a good first day here and I disappointed myself on Saturday in qualifying. But today I felt the car was better and we learned some things for the future. We had a pretty good car at St. Pete and I think we'll have a good run at Long Beach now. At the end of the today, we have to take the positives and move on."
Connect with The Crittenden Automotive Library