Carpenter Improves Speed In Qualifying Saturday at Barber
Carpenter Improves Speed In Qualifying Saturday at Barber
Tom Blattler
Ed Carpenter Racing
April 6, 2013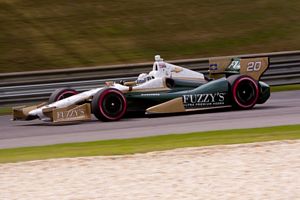 Carpenter Improves Speed In Qualifying Saturday at Barber
April 6th 2013 - LEEDS, Alabama – Ed Carpenter made another improvement with the No. 20 Fuzzy's Ultra Premium Vodka Chevrolet Saturday in qualifying at Barber Motorsports Park, but the series' only team owner/driver wasn't pleased with his performance over the 2.38-mile, 15-turn circuit.
On Saturday, Carpenter recorded a best lap of one minute, 8.636 seconds for an average speed of 120.636 miles per hour, a jump over more than 1.6 seconds from his practice time Friday at the picturesque racing facility east of Birmingham.
But Ed felt his Fuzzy's Vodka Chevy was better than the time he clocked in the opening round of qualifying. Earlier in the 10-minute time trial session, Carpenter jumped into the top three.
The team tried a new set of Firestone "Red" tires with three minutes remaining, but Carpenter was unable to advance to the second round. The cooler conditions of Saturday morning improved the entire 26-car field in qualifications.
Defending IZOD IndyCar Series champion Ryan Hunter-Reay won the Verizon Pole Position with a speed of 123.422 m.p.h.
"I think I needed to get a little more out of the car today," Carpenter said after qualifying. "I'm frustrated with myself today. We had closed the gap on the cars in front of us on Friday. But we didn't do that today (Saturday). I'm a little disappointed to be honest. We did improve our time from Friday, but the car was pretty good. Hopefully the race will be better for us than today."
Sunday's activities at Barber Motorsports Park get underway at 11 a.m. CDT with the IZOD IndyCar Series on the track for a warm-up session of thirty minutes. The green flag will drop at 2:40 p.m. CDT for the 90-lap Indy Grand Prix of Alabama. The feature event will be televised live on the NBC Sports Network.
Connect with The Crittenden Automotive Library