Carpenter Fights Changing Track Surface at Barber Friday
Carpenter Fights Changing Track Surface at Barber Friday
Tom Blattler
Ed Carpenter Racing
April 5, 2013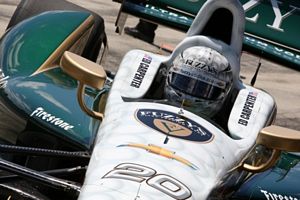 Carpenter Fights Changing Track Surface at Barber Friday
April 5th 2013 - LEEDS, Ala. – The track surface at Barber Motorsports Park proved to be difficult Friday in the opening day of action for Sunday's Indy Grand Prix of Alabama, the second stop in the 19-race IZOD IndyCar Series.
Despite sunny skies over the 2.38-mile, 15-turn circuit east of Birmingham, the heavy rain from previous days at the racing facility gave the 26-driver field unusual traction with "weepers" bleeding through the pavement of the racing surface.
Ed Carpenter, driving the No. 20 Fuzzy's Ultra Premium Vodka Chevrolet, saw improvement in his Dallara machine throughout the two rounds of practice as the Indianapolis racer fought the tricky track conditions.
The Fontana race winner was able to slice nearly a second off his lap time in the second runs of the day. Carpenter clocked a best time of one minute, 10.294 seconds for an average speed of 117.790 miles per hour in the second practice session.
Ed's top speed in the first round was 116.605 m.p.h. Helio Castroneves posted the fastest speed of the day at 120.781.
Another round of practice is set for 8:00 a.m. CDT Saturday with qualifying for the Verizon P1 Award to get underway at 10:25 p.m. Sunday's 90-lap main event begins at 2:40 p.m. CDT and will be televised live on the NBC Sports Network.
"Both sessions were a little weird today," said Carpenter. "The track had some weepers and, actually, the weepers were worse in the second practice. That is a little strange. The track has changed from the test last week. We did learn some good things this afternoon. We closed the gap a little on the leaders. We need to get more. We had a mistake on the new tire run, so I think we'll be faster with the new setup.
"I think we can do better on Saturday. We were moving in a better direction with the car now. This place is a hard track, and you tell it with everybody. Someone will get a good lap and then fall off the next one."
Connect with The Crittenden Automotive Library