Carpenter Gets Accustomed With Old Friend Friday at St. Pete
Carpenter Gets Accustomed With Old Friend Friday at St. Pete
Tom Blattler
Ed Carpenter Racing
March 22, 2013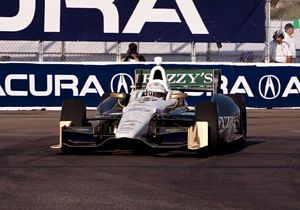 Carpenter Gets Accustomed With Old Friend Friday at St. Pete
March 22nd 2013 - ST. PETERSBURG, Fla. – Ed Carpenter, the last winner in the IZOD IndyCar Series, was back getting familiar with an old friend Friday in the streets of St. Petersburg.
The No. 20 Fuzzy's Ultra Premium Vodka Chevrolet proved to be Carpenter's old buddy as the 2013 IZOD IndyCar Series opened up for action after over six months off. Only a few days of testing in the off-season gave Carpenter and his ECR/Fuzzy's crew a chance to prepare for the 19-race campaign.
So, the Indianapolis racer was quite happy to get acquainted with his Chevy-powered Dallara machine on the 1.8-mile, 14-turn circuit along the St. Pete harbor during two rounds of practice Friday in the Grand Prix of St. Petersburg.
Carpenter, winner of the 2012 season finale last September at Fontana, Calif., recorded 19 laps in the morning practice with a best of one minute, 4.013 seconds for an average speed of 101.228 miles per hour. The ECR crew made some serious chassis and gearbox adjustments at the lunch break in hopes of improving the handling of the Fuzzy's machine.
In the second round, Carpenter cut nearly a second off his morning time with a top clocking of 1:03.142 for a speed of 102.626 m.p.h. The top speed of the day was 105.457 m.p.h. by Will Power.
Another round of practice is set for 10:25 a.m. Saturday with qualifying for the Verizon P1 Award to get underway at 2:05 p.m.
Sunday's 110-lap feature begins at 12:40 p.m. EDT and will be televised live on the NBC Sports Network.
"Today's runs were much improved over our first day here last year," said Carpenter. "We still have a lot of cars in front of us and that is frustrating. But the gap is much tighter this year. We learned a lot today and we made some good changes. Of course, we tried a lot of things and some were good and some bad. But that is what the first day is all about. I think we left some time out on the track in both sessions today. So I think we can get some more out of the car on Saturday. We have a chance to move up the grid for qualifying. It just feels good to be back in the cockpit and back racing again. It has been a long winter."
Connect with The Crittenden Automotive Library