ECR GM Derrick Walker Says Team Is Ready For 2013 IZOD IndyCar Series
ECR GM Derrick Walker Says Team Is Ready For 2013 IZOD IndyCar Series
Tom Blattler
Ed Carpenter Racing
March 11, 2013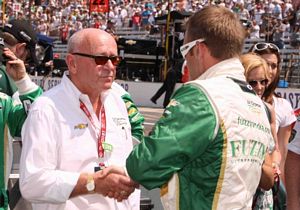 ECR GM Derrick Walker Says His Is Ready For IZOD IndyCar Series
March 11th 2013 - INDIANAPOLIS, Ind. – Few racing executives have the resume of Ed Carpenter Racing's general manager Derrick Walker.
The personable Scotsman has seen almost everything from Formula One, IndyCars and sports cars and he has served in roles from a mechanic, team manager and team owner.
So, when Ed Carpenter established the new Fuzzy's Ultra Premium Vodka-sponsored IZOD IndyCar Series team last year, it was Walker who held the reins and guided the "rookie" organization to a solid season and 500-mile victory at Fontana, Calif.
With the assistance of team manager Tim Broyles, lead engineer Matt Barnes and crew chief Bret Schmitt, Walker has continued ECR's progress as the team sets sights on its second year in the very competitive 19-race campaign. Walker explains below its team's off-season strategy and that the ECR squad is ready for the season opener on March 24 in the streets of St. Petersburg.
QUESTION: It's been a little over a year since the team was started. How has the progress gone from the start?
WALKER: This time last year it was a completely new start-up team. We had people who hadn't worked together previously. So it took a lot of work to develop team building and tackling the challenge of a new car as well as the new manufacturer, Chevrolet. As the season progressed, we matured as a unit, we improved and we started getting a little bit of momentum. The ice on the cake was certainly at Fontana where it all came together. And the result was only fitting, as we were the best car on the day and deserved to win. That was truly a strong team effort. In reality, you could have looked back at Indianapolis and, at the last 20 laps of the race, we were heading for a first Indy 500 win. The potential was there and it was building. In the winter, we have been able to build on that first year. We kept everyone on board and added only one employee to our lineup and the team is even better now than it was last year. And the focus now has all been about speed.
QUESTION: Do you consider the rookie year of ECR a success?
WALKER: I think it was a success with the win at the last race in Fontana. Winning a race in the first season and, especially a 500-miler, was a good achievement. The team worked very hard throughout the year to improve with the new chassis and the new Chevrolet engine. The team was getting stronger and stronger. I hope it was the start of things to come.
QUESTION: What was your strategy in the off-season with the team preparing for 2013?
WALKER: We sat down at the end of the season and asked where we should focus our resources and all of our energy to be more successful in 2013. The team has executed that flawlessly in the winter. And we are anxious to see that focus show up at the race track. We are hopeful to find out what we have learned in the off-season. I think we have done a good job of maximizing our human resources and our intelligence over the winter. The proof will be when hit the track and if we got it right.
QUESTION: What is the biggest challenge for the team now?
WALKER: The biggest challenge is that we are a single-car team. And that has some penalties. The rate you can improve is if you have a two or three-car team. You have to remind yourself that this team just over a year old. But we are growing and part of evolution is adding a second car when we can. And that would take us to the next level. We hope that comes sooner than later.
QUESTION: How has Ed's role worked as both an owner and a driver?
WALKER: Ed does a good job handling both roles. He has been very good at working on the business side at proper times. Then, when he is in the driver mode, he detaches from the business side completely and he is like any other driver in the series. We have a good group in the company who help run the company for him, so he is able to disconnect from the business side and concentrate on his driver role. He keeps it pretty well separated. It works really well. It's definitely Ed's team. He is into it hook, line and sinker!
QUESTION: Derrick, what were some of the off-season projects for the team?
WALKER: The rule book these days has changed a lot of what we do now. We are not allowed a lot of testing, so many of the teams like ours ended up going to many test facilities that make sense. You try to better understand the car and work on certain areas you can improve the car. One area is the damper (shocks) side. And the combination of wind tunnel testing, shaker testing, gearbox testing, you named it. There are a lot of rigs you can go to now and simulate race conditions. So our team has been flat out on those areas during the off-season. Since we started up a short time ago, most of our equipment is in good shape. So we have worked mostly on car development. And there has been no let-up on the boys this winter.
QUESTION: With Ed coming up through the USAC ranks, he didn't have any road racing experience. How do you see his improvement on the street and road circuits?
WALKER: I think he has come a long way in that area. We worked with Vision Racing a while back and he has improved quite bit from those days. We have a former driver, Lee Bentham, a former Atlantic champion, who helps us. Lee is very good as a spotter and he assisted Ed in certain areas. Ed has benefited from just hard work and the feedback he receives from Lee. Road circuits are not our stronger suit right now. But we are improving.
QUESTION: With the three doubleheader weekends, how hard is that on the crew?
WALKER: The maintenance part is the easier side of things for the crew. These cars are fairly stronger and they can do two races without a lot of maintenance. Obviously, if you have any altercations along the way or loose damage, you'll have a lot of work to do given the short schedule. The other that has changed from back in the old days is we would have a spare car right there with an engine already in it and be ready to go. Now, you have a spare car but without an engine. The current rules will not allow you to have a surplus of engines sitting right there in the truck. You only get an engine when your current one has been raced. So you have to take the spare car out and rebuild it and add the engine. Obviously, if that happens close to the second race, you would be struggling. Overall, we can adjust accordingly and we can only do so much. It will depend how your strategy looks that weekend too. If you have a good car underneath you, you will try to run as hard as possible in both events. If your car needs some work, you might be a little more cautious in the first race than you might be in the second race. But you should try to run as hard as you can in both events on the weekend.
QUESTION: You had Ryan Hunter-Reay test a few laps in Ed's car recently at Sonoma. Was that a good exercise?
WALKER: We were very happy to assist Chevrolet with some things they were trying. Ryan was quite open about the information and feedback he gave. It was a good experience. There aren't many drivers who would be open as Ryan. Ryan was the perfect guy to do that experiment. He unselfishly opened up his opinions and thoughts. It was good to have another driver give information to everyone. Ryan is a very good road racer and Ed is a very good oval racer. So it was a tremendous program to help in gaining information for all.
QUESTION: Do you believe ECR is ready for the 2013 series?
WALKER: Well, are you ever really ready for the season to start? I don't know. But I know that the ECR crew has done just about everything possible a one-car team can do in preparation of the season. Now we have to perform on the track. But I believe this team is a very good unit and we are so much better now than a year ago. And we want to continue to improve and get to victory lane again.
Connect with The Crittenden Automotive Library