ECR Crew Chief Bret Schmitt Talks About Crew Preparations for 2013 Season
ECR Crew Chief Bret Schmitt Talks About Crew Preparations for 2013 Season
Tom Blattler
Ed Carpenter Racing
February 20, 2013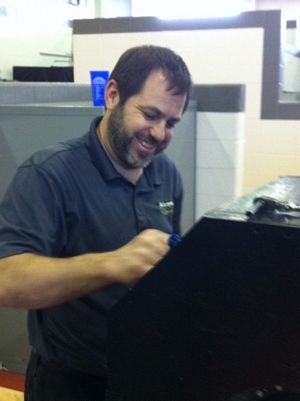 ECR Crew Chief Bret Schmitt Talks About Crew Preparations For 2013 Season
February 20th 2013 - INDIANAPOLIS, Ind. – The responsibilities of an IZOD IndyCar Series crew chief during the off-season are massive. For a veteran like Bret Schmitt of Ed Carpenter Racing, the long list of duties is nothing new.
While the racing season can be long hours for a crew chief, the off-season would seem to be less stressful and enjoy a more paced schedule. But Schmitt explains that isn't always the case.
Below are questions posed to Schmitt and his answers about the off-season events at Ed Carpenter Racing.
QUESTION: What is your process with the crew after the final race of the season?
SCHMITT: We get the cars back in the shop and completely strip everything down. Then we divide the crew up and every guy has his own responsibilities for cleaning and crack-checking as well as inspecting parts. Then we do a full inventory of everything and make sure each chassis is complete. We replace any part that isn't good. So it's a big inspection as we also go over the chassis. Especially with a new chassis last year and its first season in competition, we want to go through everything as thoroughly as possible.
QUESTION: After the racing season, how do you determine if you are going to hire or fire some employees? Luckily you didn't have to do any of that this winter.
SCHMITT: Derrick (Walker, general manager) and Tim (Broyles, team manager) have the ultimate call on the hiring and firing. They look through any resumes we have and begin the process if we have to replace someone. They will ask me about my thoughts on any person and we will move ahead for that certain position.
QUESTION: With a first-year team, was there anything that surprised you as you had a new chassis and new engine to prepare or with the whole new operation?
SCHMITT: I wasn't really surprised with everything in our team in 2012. I was just very happy how everyone did their job. I was happy how everything held together too. We didn't have any mechanical problems in the races. We had a couple of mechanical glitches early in the season. But it was the kind of the things that everyone was experiencing. Overall, we had very few problems and we were able to complete almost all of the laps in the races. And that makes you feel good. We didn't lose very much time on the track during the race weekends. And that is always our main goal.
QUESTION: Does that make you and crew feel good about your finishing record in 2012?
SCHMITT: We do take pride in that record. I think everyone felt that our efforts were very good throughout the season. Our goal was to finish every lap possible throughout the season and finished every race but Baltimore. And that was due to contact on track. We always try to make every minute that the track is available, so we need to make our changes in the car as quickly as possible too. With the limited testing and track time, it's very important to be ready to go when the green flag flies.
QUESTION: Where do you start when you develop an off-season wish list?
SCHMITT: I started on the car end of things and went through everything with Tim on what we might need. We put our heads together on what equipment is needed and what parts we needed to update. At the end of the year, we asked each crew member to put together a list of things that might be better, quicker and overall improvements, equipment-wise and car-wise. We have a meeting with all of the guys and go around the car and look at various things and places we can improve. Then we did a similar outline with the car for a weight savings. If there was a bracket we thought was too heavy and we can lighten the piece for the upcoming season, we'll do it.
QUESTION: Last year at this time you were still getting your team members together, now you have had the winter to develop things as well as a workout program?
SCHMITT: Right now, everyone on the team is working out at St. Vincent Sports Performance including the engineers and some management people. It is a good team building exercise. In the past, it was only pit guys working out and some of the other team members felt out of place. Hopefully, we will see improvement on our pit times. We won't see it in the early races but, by Indy, it could really help us.
QUESTION: In the off-season, Ed changes roles a bit with his team owner hat now on in the winter. How does that work for you?
SCHMITT: He still works with the engineering staff in the winter on testing ideas and other items. But he is still involved in our overall preparation. He gets involved with the wind tunnel and shaker rig testing that we do in the off-season. He has gotten with me on certain items in the cockpit that we can help him with as the driver. He can ask about a better driver fit with his seat or something that needs to be different in the cockpit.
QUESTION: Is there any change in Ed now that he is a team owner?
SCHMITT: He is pretty much the same Ed as before. He doesn't get on the mechanics. He remains very cordial with everyone despite if something does go wrong. He might have a burst of a temper at first, but 30 seconds later he is the same guy. I see less of him now than when he was just the driver. That's because he spends more time upstairs in his office and working on a variety of things. But he always comes down in the shop area and makes a round to talk with everyone.
QUESTION: Do you order the parts and pieces in the off-season too?
SCHMITT: I will take care of the Dallara car parts that need ordering. I'll start most of the purchase orders for those items. And Tim has to sign off that those. Then someone passes the order on to the companies. Joe Howard, our shock engineer, takes care of all of the damper stuff and he does a good job. Albert Gray, our gearbox mechanic, works with any parts needed for the gearbox. I'll order the engine parts and work with Tim on the Chevy program. We make contact with the Ilmor purchaser and there are still some items changing with the parts. So we are waiting a little bit on that end.
QUESTION: You have always been the front outside tire changer, do you see any changes on the pit stop lineup for 2013?
SCHMITT: It is still a little early to determine our pit stop lineup right now. We will test everyone in certain spots. We'll look at every position. We have a lot of capable people and we added some people in the middle of last year too. We'll give everyone a shot at each position. In fact, we'll start our pit practice now. Being a smaller team, we don't have a special pit stop car to work with. So we have to put one of our cars together to do the practice. At our next test, we'll do some stops for sure. Start out with the proven crew from last year and work in some other guys too. We'll give everyone a chance. We'll roll the pit stop camera to see how everyone does. If there is a gut feeling that one person might be better in a spot, then we might move some people around and make those changes. It is tough to determine if there should be a change. But it isn't about the quickest guys too. Quick is good, but you want to have the most consistent people. There might be nine quick stops but that tenth one could go all wrong and that could cost you dearly. Possibly cost you the race. So I would rather have the most consistent guys for the "over the wall" crew. Consistent is harder to beat in a long race. It's hard to make up spots on the track after a bad pit stop.
QUESTION: What is the toughest part of your job?
SCHMITT: With a new team, we have to get everyone on the same page. With so many people coming from different teams like we had last year, it takes a consensus to have everyone work together for a common goal. Everyone has their own personality, so we try to get everything to gel together as a group. That is very tough sometimes. You have to learn how to lean on some people more than others. So you have to act like a coach a little with your guys. You have to have a feel for how to handle each person too.
Connect with The Crittenden Automotive Library