Carpenter To Start 5th In Fontana Finale
Carpenter To Start 5th In Fontana Finale
Tom Blattler
Ed Carpenter Racing
September 14, 2012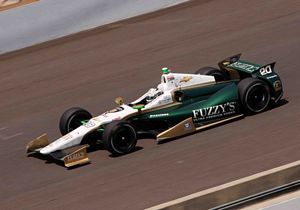 Carpenter To Start 5th In Fontana Finale
September 14th 2012 - FONTANA, Calif. – Ed Carpenter came out fast Friday at Auto Club Speedway in the No. 20 Fuzzy's Ultra Premium Vodka Chevrolet and was looking for a top qualifying run for Saturday's 250-lap MAVTV 500 IZOD World Championships, the 15th and final event for the 2012 IZOD IndyCar Series.
Carpenter, the only team owner/driver in the IZOD IndyCar Series, finished second in the morning practice runs with a clocking of 216.971 miles per hour in 104-degree heat.
Carpenter, who won at Kentucky Speedway oval last October, was set for a battle for the coveted pole position in the IZOD IndyCar Series' return to the fast Fontana two-mile oval, east of Los Angeles.
However, a blistering sun and breezy conditions changed the track surface when qualifying began in the mid-afternoon Friday. With a solid warm-up lap of 214 m.p.h., Carpenter attacked the banked oval with his Chevrolet-powered machine and hoped the traction would be there as he drove through turn two.
Unfortunately, the track surface of 140 degrees created an understeer condition in his car and Carpenter had to back off the throttle. As a result, Ed posted laps of 214.748 and 214.620 for an average speed of 214.684 and ninth in the 25-driver field. It marked the first time Carpenter qualified in the top-ten this year with his "rookie" team, Ed Carpenter Racing. Carpenter formed his new team last November.
Marco Andretti drove his Chevy machine to the pole position Friday at 216.069.
After several teams made engine changes after qualifying, Carpenter will start the MAVTV 500 from the fifth position (inside row three) when the green flag drops at 5:50 p.m. PDT. The event will be televised live on the NBC Sports Network.
"After our warm-up lap of 214 (m.p.h.), I thought we might have a shot to beat Marco's (Andretti) speed, said Carpenter. "But we built a little too much understeer in the car and I had to lift in turn two. It is fun here though. I am enjoying driving at this track. I thought it would be bumpier than back in 2005 when we were here before. But it's smoother than Kentucky. The (chassis) package for this track is hard but I like it. It's a better package than we ran at Texas. If we were going to race in conditions like this with the speed, it wouldn't be good. But the track will cool off for Saturday night's race. I think the fans will be happy with the racing for the 500. The track temperature was 140 degrees. That is hot.
"For the race, the track will cool down and produce a lot of grip for the cars. This track is tricky for everyone up and down the pit lane. Of all of the places we've run this year, I think there are more racing lanes here. You will see guys run on the white stripe and others up against the wall in the race. This will be my first 500-mile race other than Indy. I was thinking about going and talking to some of the guys who raced 500 miles here before. It's different than Indy. Indy is intense. But you have a 5/8-mile straight to take a breath. You don't get that luxury here. It will be a long night."
Connect with The Crittenden Automotive Library