ECR Ready For Fontana Oval And Season Finale
ECR Ready For Fontana Oval And Season Finale
Tom Blattler
Ed Carpenter Racing
September 14, 2012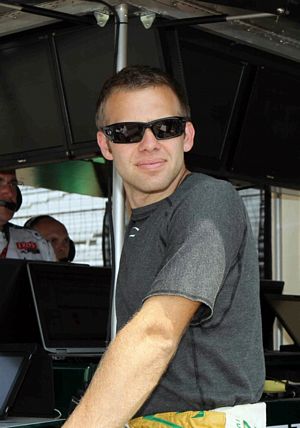 ECR Prepared For Fontana Oval and Season Finale
September 14th 2012 - FONTANA, Calif. – Ed Carpenter has had the MAVTV 500 at Auto Club Speedway circled on his calendar for several months.
Carpenter, the only driver/team owner in the 2012 IZOD IndyCar Series is looking to repeat his late-season performance of last year at Kentucky Speedway when the Indianapolis racer captured his first IndyCar Series race in a dramatic duel with series champion Dario Franchitti.
Last year, Carpenter drove for former driver Sarah Fisher in the victory at Kentucky. This year, the 31-year-old Butler University marketing grad created his own racing organization, Ed Carpenter Racing, with the assistance of Fuzzy's Ultra Premium Vodka, founded by Indiana golf legend Fuzzy Zoeller.
"We have been working on the Fontana setup of the car for some time now," said Carpenter, who established his racing career in sprint cars and midgets in dirt and pavement ovals rather than the traditional karting circuits. "If you look at all of the ovals this year, we've run well in all of the races. At Indy, we were there in third with 20 laps to go, at Texas we were fast but got a bad break, and Milwaukee and Iowa we came on strong at the end. I believe we can be up front at Fontana too."
Carpenter's new operation began last November and has continued a solid progression of being more competitive at each of the first 14 races this year. Carpenter's first non-finish occurred last week in the streets of Baltimore. Prior to that, Carpenter was the only IndyCar driver to finish the first 13 events.
"After Baltimore, I was really disappointed to give away a strong effort (due to an on-track incident), he said. "It was our first DNF for the new team. I'm as motivated as ever to pick up another win on an oval at Fontana. We left Iowa (back in June) feeling like we had a car to win. That was our last oval race. I felt like we missed a good opportunity there. So, at Fontana, we have something to prove. I feel good going to another oval, but we know that other teams are working hard like our Fuzzy's Vodka team to get a good chance to win the Fontana race. It's the season finale, so it's a big race. Fuzzy's Vodka sponsors the winner's circle at Fontana, the Fuzzy's 19th Hole, so we definitely want to pay a visit there!"
Carpenter is no stranger to the Auto Club Speedway two-mile oval, having raced at the fast high-banked track from 2003 to 2005. But Ed remembers the Fontana facility very well. And he looks forward to the IndyCars returning this Saturday night (5:45 p.m. PDT start).
"The last time I raced at Fontana was 2005," said Carpenter. "So it's been a long time. But I always enjoyed racing there. I liked Michigan too as they are similar layouts. Fontana was more challenging though. It's a little more bumpy as well as hot and windy. From what I am hearing that the Auto Club Speedway will be more challenging than what I remember it, especially with the track having aged a little bit. I'm really excited to get to Fontana again and to have another 500-miler on the schedule too. So we will be testing on Sept. 12 to get an idea of the surface and the conditions. As we get down to the end of the schedule, you don't have many opportunities to run well and do something for your team."
Carpenter knows that several championships are on the line this Saturday night too. He believes the series title contenders will have to contend with his No. 20 Fuzzy's Ultra Premium Vodka Chevrolet when the green flag drops for the 250-lap feature.
"A lot of people are racing for many things there, whether it's for the overall championship, the oval championship or people like us who want to make a statement at the end of the season," he said. "It's the last chance before the long off-season to score a win. We have been working hard and I'm really happy with effort the team has put in preparing for the Fontana finale. I think we will have a good car and a fast car."
Surprisingly, Carpenter thinks handling could be more important than speed this Saturday. "I don't think it's going to be just about speed for this race," he explained. "It's going to be a good balanced car for the whole race. And that is going to be exaggerated by going 500 miles in the race. But I feel confident going into the race."
So it won't be shocking if Carpenter is back in victory lane Saturday night at Fontana with a toast to his young team with his sponsor's product.
Connect with The Crittenden Automotive Library