1st DNF for Carpenter, ECR/Fuzzy's Vodka Team in 2012
1st DNF for Carpenter, ECR/Fuzzy's Vodka Team in 2012
Tom Blattler
Ed Carpenter Racing
September 2, 2012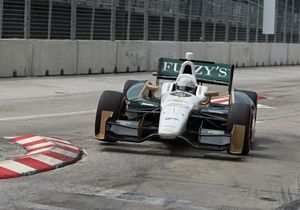 1st DNF For Carpenter. ECR/Fuzzy's Vodka Team at Baltimore
September 2nd 2012 - BALTIMORE, Md. – Ed Carpenter's 2012 consecutive finishing streak with the No. 20 Fuzzy's Ultra Premium Vodka Chevrolet ended Sunday when the series' only team owner/driver clipped the front straightaway wall on lap 9 in the second annual Grand Prix of Baltimore.
Carpenter entered the 75-lap feature as the only driver to take the checkered flag in each of the first 13 races in the 15-event IZOD IndyCar Series this year.
However, the Indianapolis driver, enjoying his best 2012 starting position in eighth, was forced out of the Baltimore event when he slid into outside wall after the chicane on Pratt Street in Inner Harbor area near the famed Oriole Park at Camden Yards.
Carpenter, who advanced to the second qualifying round Saturday, was settling into his race pace Sunday when rain drops began to hit the track pavement on lap five. Ed was attempting to challenge Alex Tagliani on the Pratt Street straight but his car clipped the concrete barrier exiting the chicane. Carpenter was credited with 25th place Sunday. Ryan Hunter-Reay took the victory Sunday at the 2.04-mile, 13-turn temporary street circuit.
The ECR/Fuzzy's Vodka team will return to Indianapolis to prepare for the IZOD IndyCar Series season finale set for Saturday night, Sept. 15, at the Auto Club Speedway, the two-mile oval east of Los Angeles.
The team is scheduled to test the Fuzzy's Vodka Chevy at Auto Club Speedway on Sept. 12 as Carpenter seeks to repeat his win last year at Kentucky Speedway.
"I was trying to gain time through the chicane and I just pushed too hard and hit the wall," said Carpenter. "I really feel badly for our crew guys and the Fuzzy's Vodka folks. I am pretty frustrated. We had an opportunity to pick up some points and have a good street race. It was a good weekend for us overall and this is a disappointment for our team.
"The good news is we improved the car throughout the weekend and we felt we had a good chance for a solid finish here. We have been making progress with our new team. We'll just lick our wounds and get ready for the big oval at Fontana (Calif.). I'm disappointed that we ended our finishing record too. Our crew has done a great job throughout the season with a well-prepared race car to finish every race. We'll regroup for the season finale (in Fontana). I know we'll have a strong car for that race."
Connect with The Crittenden Automotive Library