Carpenter To Start Season Best 8th in Baltimore Grand Prix
Carpenter To Start Season Best 8th in Baltimore Grand Prix
Tom Blattler
Ed Carpenter Racing
September 1, 2012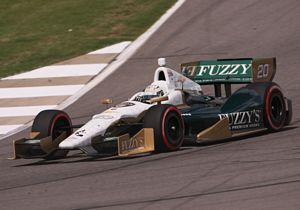 Carpenter Scores Season Best 11th in Baltimore Qualifying
September 1st 2012 - BALTIMORE – Ed Carpenter took advantage of the bumpy track surface Saturday in the streets of Baltimore and recorded his best 2012 qualifying performance in the No. 20 Fuzzy's Ultra Premium Vodka Chevrolet.
Carpenter, the only team owner/driver in the IZOD IndyCar Series, will start eighth in Sunday's 75-lap main event today at the 2.04-mile, 13-turn temporary road circuit throughout the picturesque Inner Harbor in Maryland's biggest city. The second annual Grand Prix is the 14th stop on the 15-race IZOD IndyCar Series and the final road racing event in 2012.
In addition, Carpenter wowed the large crowd with a spectacular airborne jump through the chicane portion of the front straighaway near the famed Oriole Park at Camden Yards. Carpenter attempted to maneuver the tricky "switchback" turn on Pratt Street when his Fuzzy's Vodka machine hit one of the curbs and flew some three feet high.
Carpenter landed straight over the chicane and actually recorded his best lap of one minute, 20.496 seconds and a speed of 91.233 miles per hour to place 11th overall in the Top 12 second qualifying round. The qualifying placing for Carpenter was his best in the 2012 campaign.
Will Power, last year's Baltimore winner, captured the pole position Saturday in the Penske Chevrolet. Sunday's Grand Prix of Baltimore is set to take the green flag at 2:45 p.m. EDT and will be televised live on NBC Sports Network beginning at 2 p.m.
"It's a funny thing about getting airborne at the chicane," said Carpenter, the only driver to finish each of the first 13 races this year in the IndyCar Series. "I was making up time in the chicane. So I tried to make up more time there and I just kept getting more aggressive through that area. You know it's a risky situation through that part of the track. Many guys were hitting the wall in that section. I just got a little too much curbing and the car went flying. Luckily we landed straight and I kept going. We transferred out of the first round of qualifying with a little bit of luck. But we'll take it. We haven't had the best breaks in qualifying this year.
"In the second session, we tried to improve the car a bit and I was pushing hard. We almost gained a couple of spots at the end. So it was a very good day for Ed Carpenter Racing and the Fuzzy's Vodka crew. It feels good to give them a good qualifying effort this time. It has been difficult this weekend because the track has been different with each session. That has made it hard for everyone. It's the reason you have seen so many incidents too. Everyone is trying to get up to speed so quickly with a small amount of time."
Connect with The Crittenden Automotive Library