Rough Track Surface In Baltimore Not Easy for IndyCars Friday
Rough Track Surface In Baltimore Not Easy for IndyCars Friday
Tom Blattler
Ed Carpenter Racing
August 31, 2012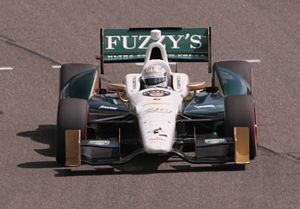 Rough Track Surface Not Easy For IndyCars in Baltimore Friday
August 31st 2012 - BALTIMORE – For the second straight week, Friday's IZOD IndyCar Series conversion revolved around the race track as a rough surface condition was the story of the day in the opening day of the Grand Prix of Baltimore.
Last week, the new track configuration at Sonoma Raceway made for an interesting opening round. But Friday at Baltimore, the railroad tracks on Pratt Street near the famed Oriole Park at Camden Yards was the talk of the paddock area.
In last year's inaugural Baltimore street event, a special chicane was inserted in the front straight to help the IndyCar drivers maneuver the special pavement that covered the train tracks. This year, the drivers recommended their cars go directly over the tracks. However, the cars began to get airborne over the bump and the first practice was halted.
A special drivers' meeting was called to discuss the problem and a temporary chicane was added for the afternoon practice round.
ECR's Ed Carpenter returned to Baltimore with his new No. 20 Fuzzy's Ultra Premium Vodka Chevrolet and battled the tough racing surface but improved his time over three seconds with a best of one minute, 23.855 seconds for an average speed of 87.580 miles per hour over the 2.04-mile, 13-turn Inner Harbor circuit.
Carpenter, the only team owner/driver in the IndyCar Series in 2012, only recorded a few laps in the morning practice before the officials called the session. While a decision was forthcoming regarding the new track layout, the Fuzzy's Vodka team began preparations on the Fuzzy's backup machine set to compete in the series' finale in Fontana, Calif., on Saturday, Sept. 15.
In addition to the chicane modification, the Baltimore officials also repaired some manhole covers which came loose around the track. The Saturday practice session is scheduled for 9 a.m. with qualifying rounds set for 12.05 p.m. EDT with the Firestone Fast Six Shootout.
Sunday's main event through the Baltimore streets will drop the green flag 2:45 p.m. EDT.
"At least we all got a bit of the session this afternoon," said Carpenter, who is the only IndyCar driver to finish all 13 races this year. "It turned out okay in the second session despite the bit of cluster that was this morning. As the drivers mentioned to INDYCAR, we didn't want the chicane from last year. We thought we could go straight over the railroad tracks and we tried it this morning. But it didn't work. We all sat down and discussed it. We came up with a temporary solution for today and we'll get a better setup for tomorrow with the chicane. It was good to get a normal session after everything was so abnormal this morning. We still have a lot of work to do, but I feel like we are in position to move up the grip a bit in qualifying."
Connect with The Crittenden Automotive Library