ECR Finishes 13th Straight Race, Only Team to Take Checkered Flag at Each Race
ECR Finishes 13th Straight Race, Only Team to Take Checkered Flag at Each Race
Tom Blattler
Ed Carpenter Racing
August 26, 2012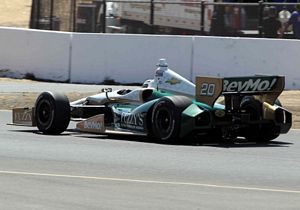 ECR Finishes 13th Straight IndyCar Race Sunday
August 26th 2012 - SONOMA, Calif. – Ed Carpenter battled the demanding 2.3-mile, 11-turn Raceway at Sonoma Sunday to take the No. 20 Fuzzy's Ultra Premium Vodka Chevrolet to the 20th position in the 85-lap Indy Grand Prix of Sonoma.
It was a difficult day for Carpenter and the ECR/Fuzzy's crew after starting 25th in the 27-driver field, but the Fuzzy's team wasn't the only organization fighting the elements and the competition at the track in the sunny and breezy conditions.
Carpenter fought his car early in the contest but several adjustments at the first pit stop helped the handling of the Fuzzy's Vodka Chevrolet in the second stint. Carpenter moved up to the 15th position in the middle of the race, but the dusty pavement in several spots on the racing surface proved to be tough for much of the field Sunday.
And the traction troubles hindered Carpenter's third stint to place 20th. Carpenter and the Fuzzy's Vodka Chevrolet finished their 13th consecutive race in the 2012 campaign and the No. 20 machine remains the only car to take the checkered flag this year.
Ryan Briscoe won the main event at Sonoma and Chevrolet clinched the 2012 IZOD IndyCar Series Manufacturers' points championship in the famed Bowtie's return to IndyCar competition this year.
The ECR crew will prepare their No. 20 mount this evening at Raceway at Sonoma for the next round of the IndyCar Series, the Baltimore Grand Prix next weekend through the city streets of the popular Maryland city. It will take 45 hours from Sonoma to Baltimore for truck drivers Matt Giese and Jeff Hughes to pilot the Fuzzy's transporter for load-in at the Baltimore Convention Center Wednesday afternoon.
The second annual Baltimore Grand Prix is set for action beginning Friday, Aug. 31, with two practice sessions followed by qualifying Saturday, Sept. 1, and the 75-lap feature Sunday, Sept. 2.
"It was a very disappointing race for us," said Carpenter following the race. "We made good progress through the weekend with the Fuzzy's Vodka car and felt we would be better today in the race. I don't know what happened for the race. We didn't make many changes for the race. But it felt like it was a completely different car from the past couple of days. I thought we had the opportunity to do better today and take a step in the right direction. But the car just did perform the way we wanted. We'll have to sit down and go over everything this week as we move to Baltimore for Labor Day weekend. I feel badly I didn't do better today, that team didn't do better and I feel badly for our sponsor, Fuzzy's Vodka. We'll regroup and be ready for the next two races left in the season."
Connect with The Crittenden Automotive Library