Carpenter Finishes 22nd At Mid-Ohio For 12th Straight Checkered Flag
Carpenter Finishes 22nd At Mid-Ohio For 12th Straight Checkered Flag
Tom Blattler
Ed Carpenter Racing
August 5, 2012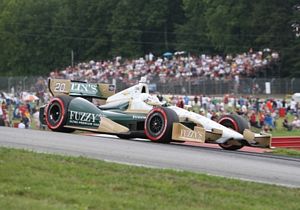 Carpenter Finishes 22nd At Mid-Ohio For 12th Straight Checkered Flag
August 5th 2012 - LEXINGTON, OHIO – Ed Carpenter drove the No. 20 Fuzzy's Ultra Premium Vodka Chevrolet to 22nd Sunday at the physically-demanding Mid-Ohio Sports Car Course for the 12th stop in the 15-race IZOD IndyCar Series.
Carpenter, the only team owner/driver in the series, recorded his 12th consecutive finish in 2012 after starting 25th in the 85-lap feature. Unfortunately, a Friday braking issue with the DW 12 car put Carpenter and his ECR/Fuzzy's crew behind entering Saturday morning's qualifications at the 2.25-mile, 13-turn permanent circuit.
The Fuzzy's machine seemed to improve every session and held a consistent pace in the middle of Sunday's main event. A Sunday morning thunderstorm delayed the warm-up runs for the IndyCars and threw a curveball to the engineers and strategists as they developed their race plans. Despite the overcast skies, the track was dry when the green flag fell at 1 p.m. EDT.
Carpenter attempted to use a two pit stop strategy during the event but the Butler grad had to make a late race stop for fuel and tires. For the second straight event this year, the Mid-Ohio race went caution free and Scott Dixon captured his second consecutive Mid-Ohio crown.
Carpenter first pitted on lap 26 for fuel and tires as engineers Matt Barnes and Brent Harvey made some air pressure adjustments for the Fuzzy's machine. Ed was able to maintain a solid pace that included increasing the gap in front of the leaders. A second stop on lap 52 relegated Carpenter to the back of field after he ran as high as 17th. The late race stop (just eight seconds) gave Carpenter enough fuel to run to the checkered flag.
The ECR squad now prepares for the 13th round of the year at Sonoma Raceway set for August 26. The team also will test at the Northern California circuit on Friday, August 17.
"Wow, another green to checkered run today," said Carpenter. "It makes for long races for us. Qualifying at the back (of the field) is difficult for anyone to move up without a yellow or two. We were off pace in qualifying but our pace was much better in the race. We were able to run some pretty consistent laps in the middle of the race. There was a difference between the red tires and the black Firestones today.
"We are encouraged that our race pace was better. I think I need to do a better job in qualifying. We need to start up in the field better. These cars are more durable and the attrition rate isn't as high now as in previous years. I was surprised there was no full course yellow period, especially in the early laps. But you can bang on each other with these cars and get away with it. So qualifying badly doesn't make for a lot of chances to improve in the race. We did learn some things today that we can put to use at Sonoma in a few weeks."
Connect with The Crittenden Automotive Library