Carpenter Improves Speed in Mid-Ohio Qualifying
Carpenter Improves Speed in Mid-Ohio Qualifying
Tom Blattler
Ed Carpenter Racing
August 4, 2012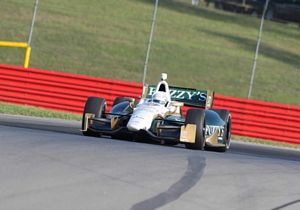 Carpenter Improves Speed in Mid-Ohio Qualifying
August 4th 2012 - LEXINGTON, OHIO – Ed Carpenter will be ready for all types of racing conditions Sunday at the Mid-Ohio Sports Car Course as thunderstorms are in the forecast for the 200-mile main event.
The always-demanding 2.24-mile, 13-turn permanent road course could be even more difficult if rain hits the popular racing facility for the 25-driver field in the 12th race of the 15-event IZOD IndyCar Series. It would mark the first time for rain conditions at Mid-Ohio since the IndyCar Series made its initial start in 2007.
Carpenter improved his speed at Mid-Ohio Saturday in the No. 20 Fuzzy's Ultra Premium Vodka Chevrolet with a speed of 118.649 miles per hour. However, Ed was hoping for better times in the Saturday morning qualifying round after a limited Friday practice session.
Braking issues hindered Carpenter's track time Friday and the ECR/Fuzzy's squad worked overtime to catch up with the other IndyCar teams. Unfortunately, time wasn't on the ECR side during time trials. Ed was able to pick up some speed Saturday with the 118.649 over Friday's best of 117.950. Will Power tops the qualifying charts in his Penske Chevrolet at 123.825.
Sunday's Mid-Ohio event is annually one of the toughest for the drivers physically with hot temperatures and winding course and Carpenter expects those conditions again Sunday. In addition, any wet racing surfaces could make for a wild feature when the green flag drops at 1 p.m. EDT.
The Honda Indy 200 will be shown live nationally on the ABC-TV beginning at 12:30 EDT.
"We were able to improve a little today but not as much I would have liked," said Carpenter, the only driver to finish all of the eleven races this year in the IZOD IndyCar Series. "We lost a lot of time yesterday with the braking issues. So that kind of put us behind the eight ball for the weekend. But I thought we would pick up more time after the morning practice. It's not where we want to be right now. We'll have to make some changes with the car for Sunday's race. It is always a tough race physically here. It wears out a driver and mistakes can happen a lot at Mid-Ohio."
Connect with The Crittenden Automotive Library