Brake Issues Hinder ECR Friday at Mid-Ohio
Brake Issues Hinder ECR Friday at Mid-Ohio
Tom Blattler
Ed Carpenter Racing
August 3, 2012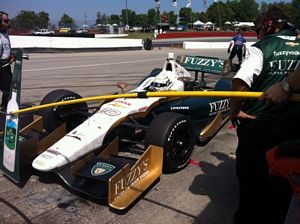 Brake Issues Hinder ECR Friday At Mid-Ohio
August 3rd 2012 - LEXINGTON, OHIO – A brake issue hindered Friday's practice session for Ed Carpenter and his ECR/Fuzzy's team at Mid-Ohio Sports Car Course as the IZOD IndyCar Series drivers prepared for Sunday's 200-mile feature.
Carpenter was limited in his practice runs at the 2.24-mile, 13-turn permanent road circuit in the opening round of the popular three-day event which draws tens of thousands of race fans to the middle of the Buckeye state.
The Bret Schmitt-led ECR crew did an outstanding job to discover the braking issues with the No. 20 Fuzzy's Ultra Premium Vodka Chevrolet machine. Unfortunately, Carpenter wasn't able to work on the setup of his machine until the last 15 minutes of the 90-minute practice session.
The mid-90 air temperatures and a slippery track surface from the different tire rubber of the American Le Mans Series cars made for a difficult track surface in the IndyCars' initial rounds over the demanding Mid-Ohio course. Track times began to drop late in the practice with Carpenter posting a best time of one minute, 8.917 seconds for an average speed of 117.950 miles per hour. Will Power was the fastest Friday at 121.574.
The IndyCar second practice begins at 8 a.m. EDT Saturday for one hour with qualifying set for 11 a.m. PDT.
The Honda Indy 200 will start Sunday at 1:00 EDT with the ABC-TV's live telecast set for 12:30 p.m. EDT.
"We had a bit of a brake issue for two-thirds of the session today," said Carpenter, who makes his 125th career IndyCar Series start Sunday. "So I really didn't get to work on the car setup too much. But we finally got it resolved towards the end of the session, and we were then able to adjust a few things on the car. At least we were able to improve the car from the test last week. So I think we are moving in the right direction.
"The track was much different the day of the test. It's much hotter today and we have rubber from the ALMS cars on the track surface. I think the track was better last week after the AMA bike rubber was on the surface. But the biggest issue for us today was the braking. Now we can work on getting the car better for Saturday."
Connect with The Crittenden Automotive Library