Carpenter Enjoys New Dual Role, Team Prepared For Mid-Ohio
Carpenter Enjoys New Dual Role, Team Prepared For Mid-Ohio
Tom Blattler
Ed Carpenter Racing
August 1, 2012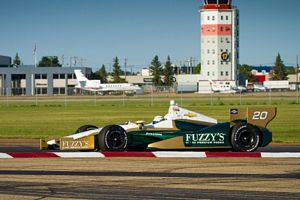 Carpenter Enjoys New Dual Role, Team Prepared For Mid Ohio
August 1st 2012 - LEXINGTON, Ohio – Ed Carpenter's dual role in 2012 has been a challenge for the only team owner and driver in the IZOD IndyCar Series.
But the Butler University graduate has enjoyed almost every minute so far.
Carpenter's incredible charge from 28th to third in the Indianapolis 500 was one of the highlights this year for the driver, team owner and his team. Only the Indy finish (21st) wasn't what he wanted.
"We had a good run going at Indianapolis and we were in the top three with 25 laps to go," said Carpenter, owner/driver of the No. 20 Fuzzy's Ultra Premium Vodka Chevrolet. "But we ultimately spun out as we were fighting a front wing issue all day. We haven't had the standout result we have been looking for this year yet. Hopefully we'll have a chance at a victory. But the experience has been fun."
Luckily for Carpenter, the team owner has put together an outstanding contingent for his Ed Carpenter Racing organization led by veteran motorsports executive Derrick Walker. Walker and team manager Tim Broyles have helped Carpenter concentrate on his driving during the race season. But Ed is still involved in many team meetings behind the scenes and with his sponsors such as Fuzzy's.
"Obviously, it's been a challenge at times (being a team owner)," Carpenter admits. "It's been a fun process building the team. We just started the team in November. I'm very proud of the team of people we have put together. Derrick (general manager) has done a good job taking the pressure off of me and allowed me to concentrate on the driving portion during the season."
Carpenter's squad has been in contention several times this year for a podium finish (top three) which would be a tremendous achievement in the team's rookie year. But Ed knows his organization is improving with each race and the first year of a team's existence has its growing pains.
"All in all in year one, we would like to have some better results but, at the same time, we are growing and improving even though the results don't show it right now," Carpenter said. "Hopefully we'll be a team to be reckoned with in the future. The series is so extremely competitive right now. The sport is as competitive as it has ever been, at least during my career dating back to 2004. From the level of drivers in the series and the quality of the teams, it is a fun time to be involved in the IZOD IndyCar Series. Our team is the only one to finish every race this year. So I'm proud of our guys' effort."
Carpenter knows he is facing the toughest physical race of the season this weekend when the IZOD IndyCar Series returns to the Mid-Ohio Sports Car Course, the 12th stop in the 15-event campaign. Carpenter's Mid-Ohio contest will be his 125th career start in the IZOD IndyCar Series.
The summer trek to the picturesque 2.24-mile circuit in the middle of Ohio is never easy for the IndyCar drivers with the high-speed, off-camber corners and the usually high air temperatures. Ed has been training hard at St. Vincent Sports Performance in preparation of the demanding track's layout.
"Mid-Ohio is a fun challenge for a driver," said Carpenter. "The track is fast. It is very physical. It's usually pretty hot there. So it's a physically demanding track. And it can be a mentally demanding track there too at times. Each place is a little different. But Mid-Ohio is always one of the toughest."
The Kentucky Speedway winner knows what to expect when practice runs begin at 2 p.m. EDT Friday at Mid-Ohio.
"Compared to any oval track, it's definitely more of a physical challenge at Mid-Ohio," Ed said. "But if you go to Milwaukee and Iowa, those ovals are very physically challenging too. A place like Kentucky or Indy is very mentally tasking. Mid-Ohio is much more physically tasking. But I have kept up my training to prepare for the Mid-Ohio race. I know our crew is ready for it too."
ECR's team owner wants to keep that impressive finish record intact this Sunday.
Connect with The Crittenden Automotive Library