ECR Featured In INDYCAR 36 This Sunday on NBC Sports Network
ECR Featured In INDYCAR 36 This Sunday on NBC Sports Network
Tom Blattler
Ed Carpenter Racing
July 2, 2012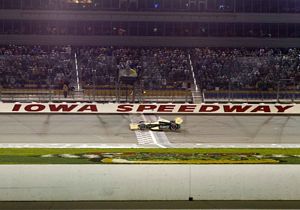 Ed at Iowa Speedway
July 2nd 2012 - INDIANAPOLIS – It might have looked funny last week at the Iowa Corn Indy 250 when cameras and sound equipment were stuffed into the engineering room at Ed Carpenter Racing recording strategy information for the race.
Or that the same equipment and personnel were following Ed and Heather Carpenter around Adventureland with their kids, Makenna and Ryder, before Saturday's 250-lap IZOD IndyCar Series race at Iowa Speedway.
Those "behind the scenes" insights will be just a fraction of the events involved in this Sunday's (July 8) INDYCAR 36 television program set for 7:30 p.m. EDT on NBC Sports Network when Carpenter and his Fuzzy's Ultra Premium Vodka-sponsored team are featured in the 30-minute special.
Led by producer Sean Belby, the production crew of cameramen Matt Purkes and Blair Miley as well as sound coordinator Ward Lauer capture the trials of the Ed Carpenter Racing squad in their attempt to score the team's first IndyCar Series win.
"We were pleased to have the excess of Ed's team and family throughout the weekend at Iowa," said Belby, whose IMS Productions squad has followed the likes of Tony Kanaan, Helio Castroneves, Graham Rahal, Ryan Hunter-Reay and Charlie Kimball this season. "Ed, Heather, the kids and the entire team were great subjects for our next INDYCAR 36 show set for this Sunday on NBC Sports. We follow the good and bad of a race week with the driver and a team. So fans will see many of the issues a racing team has to deal with throughout a race weekend."
The IMS Productions contingent follows Carpenter through practice, his qualifying heat and the Iowa Corn 250 as well as off-track activities that included sponsor appearances with Chevrolet and Fuzzy's Vodka, fan autograph sessions, team meetings and an outing with the family at an amusement park.
"It was interesting to see the cameras and microphones in various places we don't usually have them," said Carpenter, the only team owner/driver in the IndyCar Series in 2012. "But they never really got in my or our team's way. It was great to work with such a professional group and I hope the show is enlightening for the viewers. I think they will see an interesting side of the sport of IndyCar racing."
The first showing of the Ed Carpenter Racing INDYCAR 36 will be this Sunday with replays scheduled throughout the next few weeks on the NBC Sports Network.
Connect with The Crittenden Automotive Library