Ed Excited About High Banks of Texas
Ed Excited About High Banks of Texas
Tom Blattler
Ed Carpenter Racing
June 7, 2012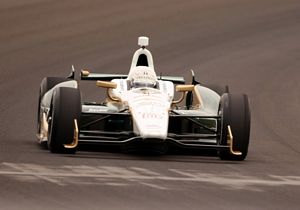 Ed Ready For High Banks of Texas
June 7th 2012 - FT. WORTH, Texas – Ed Carpenter's early racing career saw the IZOD IndyCar Series team owner/driver test many high-banked oval tracks including famous short tracks like Salem and Winchester.
And Carpenter was victorious at those types of ovals in sprint cars and midgets.
So preparing for the high banks of Texas Motor Speedway this weekend in Saturday night's Firestone 550 has the Indianapolis racer excited about the 228-lap challenge set for 7:45 p.m. CDT at the 1.5-mile track. One of the reasons for Carpenter's excitement is his spectacular "come from behind" drive two weeks ago in the Indianapolis 500-Mile Race when he piloted his No. 20 Fuzzy's Ultra Premium Vodka/Ed Carpenter Racing Chevrolet from 28th starting position to third with 20 laps remaining. Carpenter was fighting a "loose" race car that wanted to spin out for some 50 laps due to a faulty front wing adjuster.
Unfortunately, Carpenter's great drive was halted on lap 180 when his car did spin in turn one. But the personable Butler University grad remained upbeat after Indy as his first-year racing team has shown potential to race for the win in the highly-competitive 16-event IndyCar Series with its seventh stop this Saturday in Texas.
The Ed Carpenter Racing crew is in the middle of a seven-week tour that includes three weeks at the Indianapolis Motor Speedway, in the streets of Detroit and at oval tracks in Texas, Wisconsin and Iowa.
"We are in a tough stretch right now with five races in a row and working seven straight weeks," said Carpenter, who has had three top-ten finishes at Texas. "It's tough on the crew, the drivers and everyone involved. We ran Indy, then tested at Milwaukee and went straight to Detroit. But I'm looking forward to the Texas race."
Carpenter is the only IndyCar Series regular who came from the open-wheel short track ranks, as he raced USAC Silver Crown cars, Sprint Cars and Midgets while attending Butler and majoring in marketing.
"I raced every week at the short tracks, both dirt and pavement, in USAC," said Carpenter, winner at the 1.5-mile oval at Kentucky Speedway last October. "It was great experience for the kind of wheel-to-wheel action you have at a place like Texas. Short track open-wheel racing is so exciting. So I am proud to have come up through that form of racing."
With the new Dallara chassis and the new turbocharged engines, there is a bit of an unknown for the drivers coming to Texas Motor Speedway this weekend. But Carpenter did test at the track a month ago and his squad learned a lot about the new cars.
"I think there will be some good side-by-side racing at Texas," he said. "It will be exciting for the fans and the drivers. It should be a very good show. I'm not worried about 'pack' racing there. I like the wheel-to-wheel competition. We'll see if that happens again with the new car. We tested there and we learned quite a bit about the new car with the Texas banking. You saw some good racing at Indy. And I think it could be good at Texas. I always liked racing there. It's fun."
Carpenter is one of only four drivers in this year's IndyCar Series to have completed each of the first six races this year (along Dario Franchitti, Simon Pagenaud and E.J. Viso) as he heads to Texas this week.
The three-week oval stretch (Texas, Milwaukee and Iowa) has been on Carpenter's radar for some time and he hopes to repeat his Kentucky performance with a first win as a team owner this Saturday night.
Connect with The Crittenden Automotive Library