Carpenter Takes 12th in WIld Belle Isle Race
Carpenter Takes 12th in WIld Belle Isle Race
Tom Blattler
Ed Carpenter Racing
June 3, 2012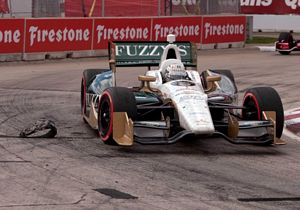 Carpenter Takes 12th in WIld Belle Isle Race
June 3rd 2012 - DETROIT – Ed Carpenter just shook his head when he jumped from his No. 20 Fuzzy's Ultra Premium Vodka Chevrolet car Sunday in the Chevrolet Detroit Belle Isle Grand Prix.
Carpenter crossed the finish line in 12th position after starting 21st in an event scheduled for 90 laps at the 2.1-mile, 14-turn street circuit northeast of downtown Detroit. Scott Dixon won the event. Those are the nuts and bolts of the sixth race in the 16-event IZOD IndyCar Series.
But there was so much more in Sunday's main event, a race that featured a delay for track surface repair and race distance shortened by 30 laps (60 laps total).
Carpenter had suffered through some difficult days in practice and qualifying in the series' return to Motown, the first Belle Isle race since 2008. A large crowd greeted the racers Sunday with huge autograph session for the Chevy drivers, as Ed also worked with his engineers for a new suspension setup for the 90 scheduled laps.
Ed moved from his 21st starting spot to 18th by lap 25 while fighting an understeer as he raced for position with Mike Conway and J.R. Hildebrand. However, as he was battling with the young drivers, Carpenter noticed the track surface was breaking up.
He said his car was jumping around in the corners and the track surface was continually getting worse. By lap 42, the yellow flag came out for a track observation, and the race was red flagged after lap 45.
A repair by track officials to the racing surface took over two hours but the track was ready for racing. IndyCar Series officials made the decision to reduce the race from 90 laps to 60, meaning there would be 15-lap shootout for the finish. In addition, a light rain shower hit the track just as the cars were restarted.
On the restart, Carpenter began in 18th position and negotiated through some spinning cars including the machine of Helio Castroneves. As Ed attempted to slide by the spinning Brazilian driver, the Fuzzy's Vodka car clipped the nose of Castroneves' car, causing Carpenter's mount to also spin. However, Ed was able to continue in the 13th spot.
Despite a gaping hole in his car's nose piece, Carpenter was able to soldier on with the wounded Fuzzy's car to the finish and the 12th position.
The Ed Carpenter Racing contingent now returns to their Indianapolis shop for preparations for next Saturday's Firestone 550 at Texas Motor Speedway.
"I thought the track folks did a great job getting the surface ready from the repair," said Carpenter following the race. "It was a dangerous situation with parts of the track breaking up. It's too bad we couldn't finish the race. There was plenty of daylight left. It's too bad the fans didn't get to see a full race. They had a great crowd today. I don't know how the decision was made to run to lap 60. It made no sense to me. It got a little embarrassing with the officials not knowing who could change tires and other equipment. It was a mess. We are professionals here in the IZOD IndyCar Series. It was just really confusing. It's too bad we couldn't go the finish. I know I was here to run 90 laps today."
Connect with The Crittenden Automotive Library