ECR Still Inspired By Strong Indy 500 Run, Ready For Belle Isle
ECR Still Inspired By Strong Indy 500 Run, Ready For Belle Isle
Tom Blattler
Ed Carpenter Racing
May 30, 2012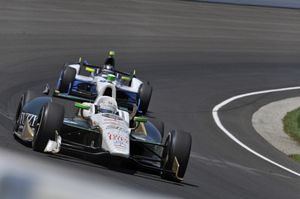 Ed at Indy Sunday
May 30th 2012 - DETROIT – Ed Carpenter's charge through the field in Sunday's Indianapolis 500-Mile Race had the huge crowd on its feet.
But the late race spin as he closed on leaders Dario Franchitti and Scott Dixon spoiled a spectacular drive for the only team owner/driver in the IZOD IndyCar Series.
Despite the misfortune, the 31-year-old Indianapolis resident is inspired for the rest of the 16-race open-wheel season with his upstart Ed Carpenter Racing/Fuzzy's Ultra Premium Vodka team. And this weekend's (June 1-3) Chevrolet Detroit Belle Isle Grand Prix is next up for Carpenter and his squad which is only in its sixth race of existence.
"We got close and gave it all we had in the Indianapolis 500, but it just wasn't meant to be," said Carpenter, the Butler University marketing graduate. "We didn't start where we wanted (28th) at Indy, but we were running right where we wanted in the late stages of the race (3rd). It was fun to go from 11th to third. If we didn't have a wing problem, I think had a real chance to win the race. I felt like I was in the battle to win the race, but the car was all over the place."
A malfunction in the front wing hurt Carpenter's chance to battle for the win with some of the series' top drivers Sunday. But Carpenter has defeated those drivers before in winning last October at Kentucky Speedway.
"I felt good about where we were sitting late in the race," he said. "You never know what is going to happen at Indy, but when you think about where you want to be over various stages of the race, you definitely want to be in the lead pack near the end. We were able to race from 28th starting position into contention for the lead late in the race, so I'm going to carry the knowledge of that – and the confidence it gives me and the Fuzzy's crew – into this weekend's race at Detroit. I'm convinced that this team is capable of winning races this year, and I think we proved that Sunday at Indy."
Carpenter, the only series regular coming from the USAC dirt track and pavement bullrings, has shown potential in his street racing abilities with impressive runs at St. Petersburg, Long Beach and Brazil. And Ed is excited to return to the Belle Isle circuit this week.
"Detroit is one of my favorite street courses, and I'm pleased that it's back on the IZOD IndyCar Series schedule this season," he said. "I'm looking forward to going back. It's a cool venue, and it should be a good race for Chevy and the Detroit auto industry. Chevy has had a tremendous turnaround lately, and the strength of its IndyCar engine is proof of that."
And Carpenter is pleased with his new team's progress after just five races, as ECR was established last November.
"I'm disappointed about Indy certainly, but I'm also enthused," said Ed. "We had a great team effort all month. The guys rallied to get us back in the race after the crash in qualifying, and they had great pit stops throughout the race. I thought we had a real chance. When I got to the front, I just put my foot in it to try to win the 500. It didn't happen, but we're not giving up."
Carpenter will be ready to go again Friday when the practice runs begin at noon at the 2.1-mile, 14-turn street circuit near downtown Detroit.
Connect with The Crittenden Automotive Library