Carpenter Set For Indy 500 After Carb Day Practice Runs
Carpenter Set For Indy 500 After Carb Day Practice Runs
Tom Blattler
Ed Carpenter Racing
May 25, 2012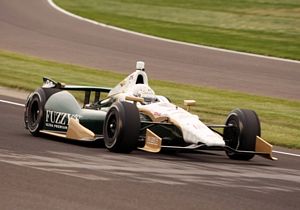 Carpenter Set For Indy 500 After Carb Day Practice Runs
May 25th 2012 - INDIANAPOLIS – Ed Carpenter didn't run many laps during Friday's Carb Day at the Indianapolis Motor Speedway in the practice session before Sunday's 96th running of the Indianapolis 500-Mile Race.
But the only team owner/driver in the 33-driver field believes his No. 20 Fuzzy's Ultra Premium Vodka Chevrolet will be good in the hotter track conditions Sunday. Carpenter completed 20 laps Friday with a best speed of 218.386 miles per hour in front of a large Carb Day crowd as temperatures were cooler in the morning session.
However, race day air conditions are expected to be near triple digits and the track surface could exceed 135 degrees. Those numbers could prove to be the hottest in the 96-year history of the 500-Mile Race.
The Ed Carpenter Racing engineers have been working on their race strategy for several days and excessive heat has been part of their homework. Engineers Michael Cannon, Matt Barnes, Brent Harvey and Ed Delporte have put long hours in developing a race day program for Carpenter and his Fuzzy's Vodka machine.
Carpenter's off-track activities have been busier than his on-track events this week and Saturday will be another active day off the track with the morning autograph session, public drivers meeting and the annual IPL 500 Festival Parade with some 300,000 spectators witnessing the popular downtown Indy classic.
Sunday's race day events for Carpenter begin with a host of live media interviews on local and national television and radio and the final race planning before the long walk to the IMS Pagoda for the driver introductions. The green flag is schedule to drop at 12:15 p.m. (EDT) for the "Greatest Spectacle in Racing."
"We weren't quite as good this morning as we were on Sunday afternoon in the hotter conditions, said Carpenter, who starts 28th Sunday. "But we will still be good when it is hotter this Sunday. The track surface was cooler today than last Sunday. So I feel better about our race setup. We had a couple of issues so I'm glad it happened today rather than Sunday. That is what Carb Day is for. But overall I think we'll be okay. I'm looking forward to going racing now. This week always kind of drags out, so it felt good to be back in the car today. Now it's time to get prepared for Sunday."
Connect with The Crittenden Automotive Library