ECR Improves Speed In Sunday's Indy 500 Practice
ECR Improves Speed In Sunday's Indy 500 Practice
Tom Blattler
Ed Carpenter Racing
May 13, 2012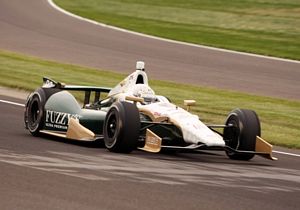 Carpenter At Indy 500 Practice
May 13th 2012 - INDIANAPOLIS – Ed Carpenter's mood wasn't pleasing Saturday night after the opening day of Indy 500 practice runs for the 96th running of the May 27 Classic at Indianapolis Motor Speedway.
Things didn't go according to plan for the new Ed Carpenter Racing team in the first six-hour session at the 2.5-mile legendary oval.
So Carpenter, his engineering staff and crew worked hard Saturday evening and developed a strategy to improve the handling of the new No. 20 Fuzzy's Ultra Premium Vodka Chevrolet Dallara machine for Sunday.
That hard work seemed to pay off as the series' only team owner/driver posted a best practice lap of 218.481 miles per hour in 55 laps Sunday. Carpenter's speed was 11th fastest on the day and his lap number was the fourth most of the 33 cars who recorded lap speeds under the sunny conditions.
With his wife, Heather, and mother, Laura, celebrating Mother Day's at the Speedway Sunday, Carpenter slowly worked his way through the team's chassis program with early runs of 215.2 m.p.h., followed by 216.4, 218.2 and finally 218.481. Young Andretti Autosport driver Sebastian Saavedra surprised Gasoline Alley Sunday by recording the fast speed of the day at 221.526 in his Chevrolet-powered car.
Carpenter, the Kentucky Speedway winner last October, praised his team's effort after a disappointing performance Saturday. He thanked his crew and told them the team was now moving in a positive direction with five days of practice coming up before Saturday's pole run. Practice continues each day this week from Noon to 6 p.m. weather permitting, but weather forecasts look promising as temperatures move into the mid 80s.
"Saturday was a tough day for our team," said Carpenter. "Not one person here was happy after practice. The guys worked really hard last night and came up with a good program for today's practice runs. We got off to a good start today and rebounded well. We still have a ways to go for next weekend to where we want to be. Today was a huge step forward from where we were Saturday. If we can gain just half the progress in the next couple of days that we made today, we'll be in a good position. We need to keep our heads down and keep working on the car. We must work on getting the Fuzzy's Chevrolet a little faster. I think it will take a little work chasing down the Hondas, but I think we can do it."
Connect with The Crittenden Automotive Library