Carpenter Named Honorary Starter For Saturday's Mini Marathon
Carpenter Named Honorary Starter For Saturday's Mini Marathon
Tom Blattler
Ed Carpenter Racing
May 3, 2012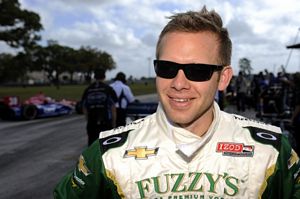 Ed To Start 35,000 Runners Saturday
May 3rd 2012 - INDIANAPOLIS – Indy 500 team owner/driver Ed Carpenter has been named an honorary starter for this Saturday's (May 5) OneAmerica 500 Festival Mini-Marathon in Indianapolis, the nation's largest half-marathon with 35,000 participants, set for 7:30 a.m.
Carpenter, winner of the IZOD IndyCar Series race last October at Kentucky Speedway, will join OneAmerica Chairman, President and CEO Dayton Molendorp, Indianapolis Mayor Greg Ballard and 500 Festival Board of Directors Scott Thiems as starters for the 36th edition of the 13.1-mile event which includes the legendary 2.5-mile Indianapolis Motor Speedway oval, the world's most famous racing facility. This year's event marks the 11th consecutive year the race has been sold out.
The OneAmerica 500 Festival Mini-Marathon, the seventh largest running event in America, kicks off the variety of activities leading up to the Indianapolis 500-Mile Race, set for Sunday, May 27. Annually, the 500 Festival hosts many events during the month of May including the internationally-acclaimed 500 Festival Parade scheduled for Saturday, May 26, in downtown Indianapolis with all 33 Indy 500 starters.
Carpenter is the only team owner/driver participating in the 96th running of the Indianapolis 500-Mile Race, as the Butler University graduate's team, Ed Carpenter Racing, fields the No. 20 Fuzzy's Ultra Premium Vodka Chevrolet Dallara entry. Carpenter is an eight-time Indy 500 starter with a best finish of fifth in 2008 and he finished 11th last year.
"It is an honor to be a starter for the OneAmerica 500 Festival Mini-Marathon," said Carpenter, a past winner at the Indianapolis Motor Speedway in the Freedom 100 in 2003. "The 'Mini' really gets things going in Indianapolis for the month of May. It is a great event, and a spectacular view at the start downtown and at the Speedway with all of the runners. I wish all of the participants the best of luck Saturday."
In addition to the 35,000 half-marathon entrants, an additional 4,000 registrants will be a part of the Finish Line 500 Festival 5K run and walk. The wheelchair race also is an added attraction in the festivities Saturday.
This year's race falls on Cinco de Mayo (the celebration of Mexican heritage and pride and to commemorate the cause of freedom and democracy), so in addition to the traditional hand clappers, spectators will receive maracas to cheer on participants (limited quantity).
The Post Race Party is in Military Park near the finish line and food trucks will be on hand for the first time including Edward's Dashboard Diner, Duos, Mac Genie and Molly's Great Chicago Fire.
Connect with The Crittenden Automotive Library