Carpenter's Result Doesn't Show Competitiveness in Brazil
Carpenter's Result Doesn't Show Competitiveness in Brazil
Tom Blattler
Ed Carpenter Racing
April 29, 2012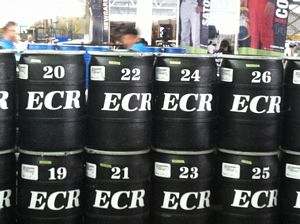 Ed Carpenter in Sao Paulo Pit Lane
April 29th 2012 - SAO PAULO, Brazil – The 21st position in Sunday's Sao Paulo Indy 300 is next to Ed Carpenter's name on the finishing sheet. But that doesn't tell the story.
The team owner/driver of the No. 20 Fuzzy's Ultra Premium Vodka/Ed Carpenter Racing Chevrolet car proved he was much more competitive than his result in the 75-lap feature at the 2.536-mile street circuit.
Starting 20th in the 26-driver field, Carpenter drove smoothly and intelligently to pick off cars lap after lap and move into the top-ten by lap 20 as pit stops began for the leaders. After his first stop, the Butler grad patiently waited for other drivers to make mistakes on the tricky street course and moved into the top-12 at lap 40.
Carpenter attempted to save fuel with his No. 20 machine as other drivers pitted for a second time. He battled the likes of Marco Andretti, James Hinchcliffe, Graham Rahal and other drivers as he looked for his best 2012 finish. Unfortunately, Carpenter's mount was struck from behind by Brazilian driver Ana Beatriz in turn 11 and spun on lap 54.
Carpenter lost three laps in the incident but he was able to take the checkered flag for his fourth consecutive road course finish. The frustrated racer climbed from his car knowing he drove much stronger than a 21st place finish.
Will Power won his third straight race for Chevrolet and Team Penske Sunday with Ryan Hunter-Reay taking a close second.
The Fuzzy's Vodka-sponsored crew now loads up the ECR car and equipment to get back to Indianapolis headquarters and prepare for the first oval race of the 2012 IZOD IndyCar Series, the prestigious Indianapolis 500-Mile Race set for Sunday, May 27. Practice runs begin Saturday, May 12, with qualifying scheduled for May 19-20.
The Fuzzy's Green Flag Tour gets underway on Saturday, May 12, at the Tilted Kilt in downtown Indianapolis. The Tour at the Kilt will run through Indy 500 race day.
"Today was a tough one to swallow," said Carpenter. "We had a great race going and, then to get spun out, just made it look like a bad day. There is no use being upset with the result here. We will just focus on the progress and start getting ready to go win at Indy!"
Connect with The Crittenden Automotive Library