Carpenter Takes First Laps In Brazil, Starts 22nd Sunday
Carpenter Takes First Laps In Brazil, Starts 22nd Sunday
Tom Blattler
Ed Carpenter Racing
April 28, 2012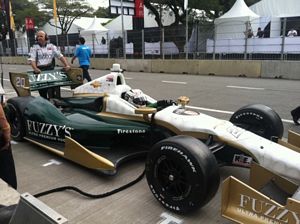 Ed Carpenter in Sao Paulo Pit Lane
April 28th 2012 - SAO PAULO, Brazil – Ed Carpenter only had the opportunity to walk the 2.536-mile (4.080 kilometers) race course in streets of Sao Paulo Thursday and Friday before he drove his first laps at the circuit Saturday morning.
The team owner/driver arrived in Brazil for the first time Wednesday as he prepared for the Sao Paulo Indy 300 KM race, the fourth stop in the 16-event IZOD IndyCar Series.
But the driver of the No. 20 Fuzzy's Ultra Premium Vodka Chevrolet Dallara car quickly improved his lap times with each round of the track Saturday and will start 22nd in Sunday's 75-lap (190 miles) feature.
In his Brazil debut, Carpenter took the two practice sessions Saturday morning to learn the 11-turn track before qualifying runs began in the early afternoon. The Butler University grad turned in 27 laps in the first practice as he negotiated the slippery street surface. In the next practice session, Carpenter recorded 12 laps.
Carpenter was designated to the second opening qualifying group Saturday and was the first driver on the track in the 15-minute Round One time trials. Ed opened his session with a time of one minute, 26.237 seconds and followed it up with a 1:23.59, bumping into the top-three in the early portions. On his seventh and final qualifying circuit, Carpenter improved to 1:22.942 clocking and an average speed of 110.072 m.p.h.
Carpenter will start 22nd in the 26-driver field Sunday when the green flag is scheduled to drop at 11:42 a.m. EDT in the Sao Paulo Indy 300 KM event. Will Power won the pole position at a 1:21.404 timing. The Brazil race will be televised at 11 a.m. EDT Sunday on the NBC Sports Network.
"It was a tough start to the day with the limited track time," said Carpenter. "We didn't make as much progress in between practice sessions as we would have liked. But we were able to make a big gain in qualifying and I feel like we should have a much better day tomorrow. It's not a bad circuit, but definitely bumpy. The hardest part has been only having one day of practice and qualifying. That has really made it challenging on a new track. The engineers really worked hard before qualifying to get a better setup. I was able to get my fastest time on my final qualifying lap. I'm looking forward to the race."
Connect with The Crittenden Automotive Library