ECR Adds BevMo! As Associate Sponsor For 3 California Races
ECR Adds BevMo! As Associate Sponsor For 3 California Races
Tom Blattler
Ed Carpenter Racing
April 11, 2012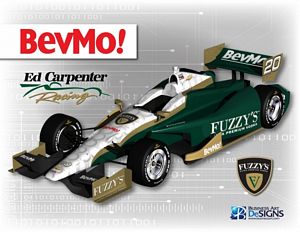 BevMo! Added to ECR For 3 California Races
April 11th 2012 - Ed Carpenter Racing is honored to announce the signing of BevMo!, a California-based ultimate specialty beverage retailer, as an associate sponsor for the three California races of the 2012 IZOD IndyCar Series, beginning with the legendary Toyota Grand Prix of Long Beach set for April 13th -15th.
BevMo!, with 115 stores in California, Arizona and soon Washington, will be prominently displayed on the No. 20 Fuzzy's Ultra Premium Vodka Chevrolet IndyCar driven by veteran Ed Carpenter at the Long Beach race, as well as the Infineon Raceway event August 26th and the Auto Club Speedway season finale September 15th.
BevMo!, established in 1994, is a leading retailer of top spirits, wine, beer, gourmet food items, cocktail mixers, glassware and bar accessories, including Fuzzy's Ultra Premium Vodka, the recent Chairman's Trophy winner for best unflavored vodka in the 2012 Ultimate Beverage Challenge.
Carpenter, the only team owner and driver in the IndyCar Series this year, will drive the Number 20 Fuzzy's Ultra Premium Vodka Chevrolet IndyCar in all 16 races in 2012. Carpenter captured the exciting IndyCar race last October in Kentucky to record his first series victory.
"BevMo! is an industry leader in the beverage retail category in California and Arizona, and we are very excited to have their partnership with Ed Carpenter Racing," said Carpenter. "Working with Fuzzy's Ultra Premium Vodka as our primary sponsor, it is a perfect blend to have BevMo! as a partner on the No. 20 Fuzzy's Chevrolet at Long Beach, Sonoma and Fontana. BevMo! is an outstanding supplier of the best brands including our favorite brand, Fuzzy's Ultra Premium Vodka. We hope that race fans will recognize the outstanding new connection and identify that BevMo! can fulfill their beverage needs."
Based in Concord, Calif., BevMo! is the leading alcoholic beverage-lifestyle specialty retailer in the western United States and among the largest in the country. BevMo.com, the #1 bricks and clicks beverage-lifestyle website, enables customers to purchase items for home or office delivery or for pickup within an hour from their local store. BevMo! operates 115 stores: 53 in Northern California, 52 in Southern California and 10 in Arizona. Locations are based in and around the major metropolitan markets of San Francisco, Sacramento, Los Angeles, San Diego and Phoenix. BevMo! is the proud recipient of the 2008 Lifetime Achievement Award from The Tasting Panel Magazine.
Connect with The Crittenden Automotive Library