Carpenter Improves Lap Speed in Barber IndyCar Qualifying
Carpenter Improves Lap Speed in Barber IndyCar Qualifying
Tom Blattler
Ed Carpenter Racing
March 31, 2012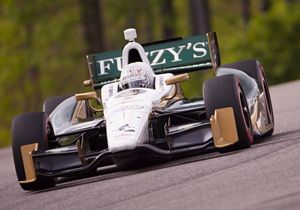 Carpenter Improves Speed at Barber
March 31st 2012 - LEEDS, AL – Ed Carpenter Racing made big gains Saturday in Barber Motorsports Park qualifying despite limited track time in the No. 20 Fuzzy's Ultra Premium Vodka Chevrolet IndyCar machine in preparations for Sunday's Indy Grand Prix of Alabama.
Carpenter, the only IZOD IndyCar Series racer from the USAC dirt and oval bullrings, continues to improve his road racing skills and Saturday morning's qualifying was no exception. The Indianapolis driver took over two seconds off his Friday best lap time with a clocking of one minute, 11.867 seconds for an average speed of 115.213 miles per hour and will start 24th in Sunday's race. Helio Castroneves won the pole at 117.485.
Due to dense fog Saturday morning, the 26-car field was limited to one lap of practice before the qualifying round. Carpenter anticipated more track time in the Saturday morning practice after Friday's afternoon runs were washed out by thunderstorms.
But Carpenter and chief engineer Michael Cannon made some aggressive changes to the green, gold and white Fuzzy's mount and the adjustments paid off. "We did pick up some good time from Friday," said Carpenter.
"The Chevrolet engine is running great and I think everyone is a big fan of the Firestone Red tires. We only got one session on Friday, so this was our only time to test the improvements we made with the car. We made some pretty big changes today and we were able to gain time. We moved a second closer to Will (Power, fastest in practice) from Friday. So I feel we are moving in the right direction with the Fuzzy's car."
Carpenter, the Kentucky Speedway winner last October, is making his initial showing at the beautiful 2.38-mile permanent road course east of Birmingham. Carpenter did get in a half day of testing two weeks ago at Barber before this weekend's event.
"This is my first competition at Barber, so it is a learning curve for me as well as the team," he said. "I'm happy with the way we are working as a team. We are closing the gap on the field as we did at St. Pete. It stinks that we couldn't get some more track time this morning, but it is equal for everyone. We are a young team and we would like to get any track time we can get. We'll make some more changes for the race now."
Carpenter and his operation will have a Sunday morning warm-up, weather permitting, before preparing for the 90-lap main event at Barber. The race will be televised on the NBC Sports Network Sunday beginning at 2 p.m. EDT.
ECR then returns to its Indy-based headquarters and switches the Fuzzy's machine over to an oval setup, as ten teams will test at the Indianapolis Motor Speedway Wednesday, April 4. It will be the first oval test for Ed Carpenter Racing with the new DW 12 Dallara chassis and the twin-turbo V-6 Chevrolet Indy engine.
Connect with The Crittenden Automotive Library