Peugeot 508 – The Family Cruiser.
Peugeot 508 – The Family Cruiser.
Geoff Maxted
DriveWrite
August 4, 2014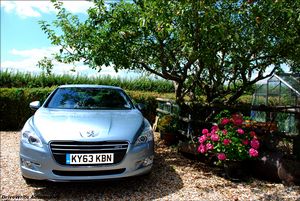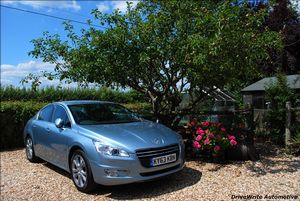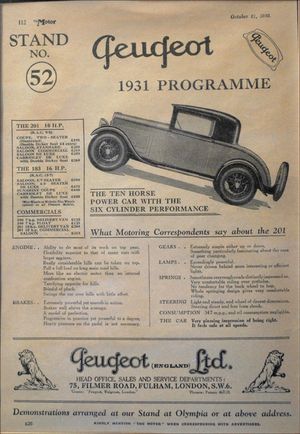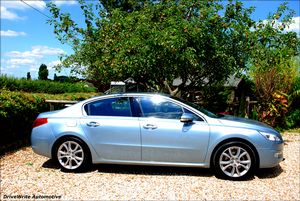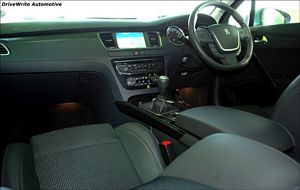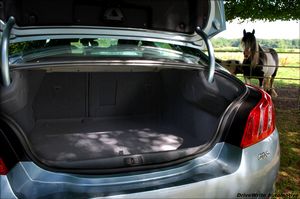 Peugeot 508 boot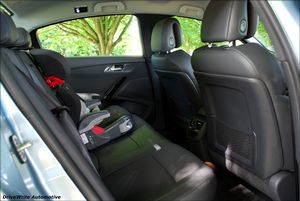 Peugeot 508 rear seats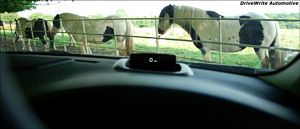 Peugeot 508 Heads-Up Display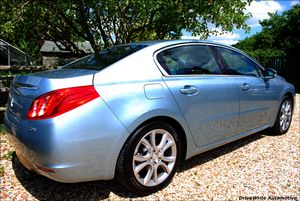 Peugeot 508 Exterior
Our car today,
says Geoff Maxted
, is the Peugeot 508 Allure Blue HDi 150 saloon – to give it its full name. You don't see many about and yet it is unquestionably a very good car. It's good looking, a very nice driver, has a massive boot, is comfortable front and rear, the cabin is built properly and the whole thing seems well screwed together. With a much improved range of cars Peugeot have really got their act together and it's hard to understand why this particular model isn't more familiar on our roads.
The 508 looks very smart from most angles and is at its best in side profile. Metallic 'Alpine Blue' paintwork helps, which is as classy as darker hues but without being quite so anonymous. The paint is a £520 option – something that most car makers tend to do these days whilst offering pedestrian colours as standard – and our test car was also fitted with an optional, clear and readable 'heads-up' display. This isn't something that DriveWrite requires but if you think it helps then it will set you back an additional £310.
Peugeot have breathed efficiently on their engine range and their old 2.0L diesel is replaced with the new 2.0L Blue HDi 150 unit, producing an extra ten horsepower while slashing particulate emissions and NOx out of the tail-pipe. Our engine, with Stop/Start, was refined and returned well over 40mpg, and we were not striving in any way for hyper-mileage. With a bit more diligence in that department 50mpg should be well on the cards. It's also very quiet once the initial growl of acceleration fades away and at motorway speeds you'd be hard put to notice that it was a diesel at all. VED is an abstemious twenty quid thanks to the low 109g/km figure.
Our test car was furnished with Allure trim, one step below the range topping GT. It loses that car's full leather upholstery and 19" wheels, but otherwise there isn't much difference, although I wasn't so keen on the part leather seat trim. One thing or the other please. There's good space front and rear – easily enough for four fully grown-up people plus – and, as mentioned, a large and well-shaped boot. The driving position proved comfortable over long distances with very little wind noise and generally good visibility.
The dashboard layout is simple and quietly attractive with all the usual connectivity. The dials are clear and easy to read, and look smart. Unusually, you also get oil and water temperature gauges something older drivers will appreciate because these days you don't see them very often. I still reckon it is a good way to foretell trouble before it gets too serious.
Sadly, especially in this day and age, the satellite navigation isn't good enough. It's not so much that it doesn't work, it's just that it seems dated and running behind the opposition. In the end, I used my mobile Garmin for preference. This is easily rectified.
Overall we were content. There's just this slight sense of lagging behind. In fleet car use for example, a few other competitors have broken the 100g/km barrier and just have the edge on efficiency. Benefit In Kind Tax for this car runs at 17% but looking at the industry figures depreciation remains a problem and Peugeot need to work at this. Maybe squeezing a little more efficiency from the otherwise excellent engine and upgrading that sat-nav would help. For the private owner you could do a lot worse and Peugeot also offer their 'Optiway' service plan which looks like a very good deal. The Peugeot 508 fits the bill in most areas as a long-legged cruiser and good all-round family motor.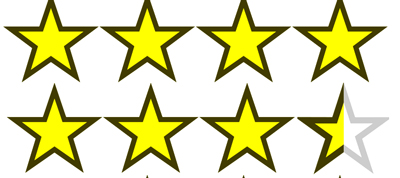 Connect with The Crittenden Automotive Library