BYD contracts KLM to service electric bus fleet at Schiphol
BYD contracts KLM to service electric bus fleet at Schiphol
BYD
November 11, 2013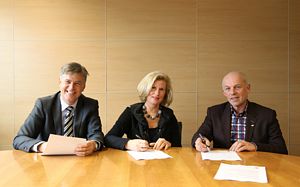 The people in the picture from left to right are Mr. Jan Heijmans(Director Finance from KLM Equipment Services), Ms Mathilde E. Bilderbeek( Director Human Recources from KLM Equipment Services), Mr. Jan van Noort( Senior aftersales manager).
BYD Auto today took an important step in its contract to supply a fleet of 35 BYD ebus pure electric buses to provide airside services at Amsterdam's Schiphol Airport. It has signed a 10-year contract with KLM Equipment Services (KES) to maintain the buses and associated chargers to BYD's exacting standards.
BYD's contract to supply the buses to Schiphol, announced earlier this year,represented a major success for the company as it targets European bus and taxi operators with its purpose-designed ranges of fully electric buses and passenger cars. The involvement of KES as a reliable after sales partner will ensure that the buses at Schiphol are maintained in excellent condition ready to transport passengers between the terminal buildings and waiting aircraft.
BYD Europe's Senior After Sales Service Manager Jan van Noort said: "Selling our ebus to the Schiphol authorities was a major accomplishment for us and we have chosen a first rate professional support partner to ensure they deliver trouble free passenger carrying service for the next decade. We are delighted to appoint KES as our service partner at the airport – and who knows it better than KLM?"
About BYD
"BYD is a publicly-traded company with no Chinese government ownership. In fact, U.S. investors own over 60% of the public stock, with Warren Buffet's Berkshire Hathaway owning 9.9% of that amount. Mr. Buffett and his colleagues recognize BYD's breakthrough battery and EV technologies: an electrified, 24-hour, and long-range battery that provides emission-free, silent, and economic public and private transportation.
As the world's largest manufacturer of rechargeable batteries, BYD's mission is to create safer and more environmentally-friendly battery technologies, and this has produced the BYD Iron Phosphate Battery. This fire-safe, completely recyclable, and incredibly long-cycle technology has become the foundation of BYD's clean energy platforms. For more information, please visit www.byd.com and www.facebook.com/bydcompany.
Connect with The Crittenden Automotive Library