Bryan Silas; T3R2 Welcome ICI Homes For Daytona
Bryan Silas; T3R2 Welcome ICI Homes For Daytona
Chris Knight
Knight Motorsports Management
February 21, 2014

DAYTONA BEACH, Florida (February 21, 2014) - - On the heels of a strong performance in the ARCA Racing Series presented by Menards season-opener last Saturday afternoon, NASCAR Camping World Truck Series (NCWTS) driver Bryan Silas is hoping for similar results as his family-owned T3R2 team welcomes ICI Homes as the primary marketing partner for Friday night's NextEra Energy Resources 250 at Daytona (Fla.) International Speedway.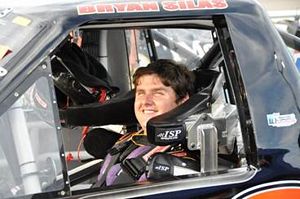 Bryan Silas, driver of the No. 99 ICI Homes / Bell Trucks America in the NASCAR Camping World Truck Series for T3R2.
ICI Homes is a leading Florida home builder dedicated to excellence in quality and service. ICI offers a wide variety of home models, but is best known for its first class home designs, its unique ability to customize and its superior energy-wise standards and features. ICI Homes is ranked by Builder magazine as one of the top 100 homebuilders in the nation.
The company also partnered with Silas in the 2008 ARCA Racing Series opener at the "World Center of Racing."
"I'm honored to carry the ICI Homes colors again this weekend at Daytona," said Silas, a native of Stuart, Florida. "We've worked hard during the off-season to step up our program and I hope those changes will pay off in a big way with a strong run on Friday night."
In addition to hoisting the ICI Homes logo, the T3R2 team will carry the Food Brings Hope logo on the truck bed of their Chevrolet bowtie. Food Brings Hope is a 501(c)3 Florida Public Charity. Forough B. Hosseini, Founder and Chair of FBH, is a local businesswoman who is dedicated to fulfilling her dream that all school-age children in the local community should be free from hunger. The charities mission is nurturing the body, mind and spirit of underprivileged children in our community.
"Having young children of my own, it's a pleasure to support Food Brings Hope this weekend at Daytona," sounded Silas. "We've always been a team that cares and I'm looking forward to learning more ways that we can help Food Brings Hope throughout the year."
During the winter months, T3R2 made a manufacturer switch, changing to Chevrolet and will now be powered by pro motor engineering (pme). Additionally, the Mooresville, North Carolina-based team has added more personnel as it revs up for its fourth season of NCWTS competition. Veteran Gary Cogswell will continue to serve as the crew chief for the 26-year old driver.
"Daytona is a gamble, everyone knows that," offered Silas. "For us though, it's an opportunity to fly into the spotlight and our team has worked incredibly hard to try and make that happen this week. We're looking forward to a strong race that will give us some positive momentum towards the remainder of the year."
The NextEra Energy Resources 250 (100 laps / 250 miles) is the first of 22 events on the 2014 NASCAR Camping World Truck Series schedule. Qualifying is set for race day, Friday, February 21st scheduled to lift off at 4:10 p.m. The 36-truck starting field will take the green flag shortly after 7:30 p.m. with live coverage on FOX Sports 1, the Motor Racing Network (Radio) and SiriusXM NASCAR Radio (Satellite Radio, Channel 90). Pre-race coverage of the anticipated thriller is tentatively scheduled to lift off at 7:00 p.m. also on FOX Sports 1.
For more on Bryan Silas please visit, BryanSilasRacing.com or tweet with him @BryanSilas99.
For the latest on ICI Homes and their services, please connect to ICIHomes.com.
Additional input on Food Brings Hope, please log onto FoodBringsHope.com.
Follow T3R2 on Twitter by following @T3Racing.
###
Connect with The Crittenden Automotive Library