Leah Pritchett's Gumout Dragster Debut Ends in 1st Round at NHRA Winternationals Sunday
Leah Pritchett's Gumout Dragster Debut Ends in 1st Round at NHRA Winternationals Sunday
Tom Blattler
February 9, 2014

For Immediate Release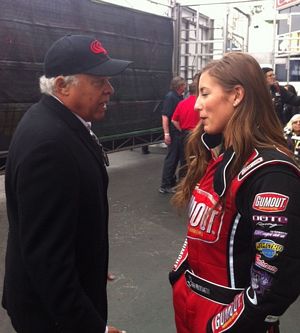 Above, with Don Prudhomme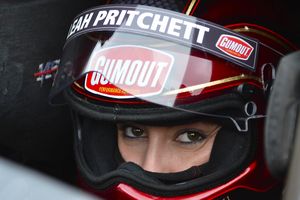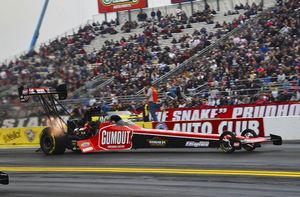 So-Cal Native Happy with Five Solid Runs in the Three-day Weekend
POMONA, Calif. (Feb. 9, 2014) – Leah Pritchett could still smile Sunday at the 54th annual Circle K NHRA Winternationals drag races despite a first-round lost at the Auto Club Raceway at Pomona. The Redlands, Calif., native had returned to her home track with a solid performance in her new Gumout/Dote Racing Top Fuel dragster.
Pritchett, who made her Top Fuel debut in last year's Winternationals, gave contender Spencer Massey all he could handle in Sunday's first round of NHRA Mello Yello Top Fuel competition. Massey had to record a 3.78-second run to better Pritchett's 3.85. Leah also recorded her best speed of her short Top Fuel career with a 321.27 mile per hour reading Sunday.
Pritchett, a veteran of various drag racing cars including Pro Mods and Nostalgia Funny Cars, got the green light advantage off the starting line on Massey but the Schumacher Racing driver drove his machine past Pritchett at the finish line for the victory.
Overall, Prtichett's Winternationals performance included her personal best time of 3.817 seconds and best speed at 321.27 m.p.h. In addition, Leah was pleased with her Dote Racing team effort as all five of her Pomona runs were full track clockings between 3.81 and 3.85 in the Gumout dragsters.
The former Nostalgia Funny Car World Champion proved to be a crowd favorite at Pomona with large crowds surrounding her team's pit area with the debut of the Gumout sponsorship. Pritchett, at age 25, has also gained the respect of drag racing legend Don "the Snake" Prudhomme, who today called Leah a "future star of the sport." Prudhomme talked with Pritchett today just before the first round of competition.
'It was not a bad showing considering we didn't run the car until last weekend in Las Vegas," said Pritchett. "I had a little quicker reaction time than Spencer with .050 of a second to his .054, so that felt good. But I could see his red front wing come up on the right side as we drove down the strip. And he got by me at the far end of the track. Our goal this weekend was to go past first round of competition. We didn't accomplish that feat but the overall weekend showing was good for the team.
"One of the highlights for me on Sunday was to chat with the drag racing legend, Don "the Snake" Prudhome. I am a huge fan of Don and he seems to be a fan of mine. Maybe it's because I have driven a lot of different cars coming up in my career. I could see the sparkle in his eye that he wants me to keeping fighting and trying hard. Coming from someone like "the Snake", that is a big honor. It's so cool to have the support of a legend like that. Wow, I have Don Prudhomme on my side as I build my career. I can't ask for anything more than that."
Pritchett's next NHRA national event will be in two weeks (Feb. 21-23) in Chander, Ariz., at the 30th annual Carquest Auto Parts NHRA Nationals.
# # #
Contacts: Tom Blattler, Sport Dimensions, Inc., 317-525-5692
Kinnon Marshall, Sport Dimensions, Inc., 805-701-1216
Connect with The Crittenden Automotive Library