"Asian Vegas" Macau Introduces BYD Electric Buses
"Asian Vegas" Macau Introduces BYD Electric Buses
BYD
December 31, 2013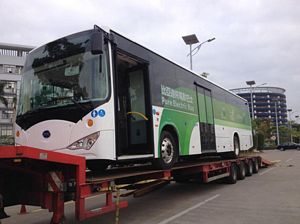 Pictured Above: The BYD ebus to be delivered in Macau
Macau's "Electric Vehicle Pilot Program" plan has officially begun. The plan organized by the Macau transport bureau and Macau environmental bureau to evaluate the energy saving effects and emission reduction of the electric cars. The BYD electric bus has been selected for the phase 2 test to further implement green technologies.
"Macau's per-capita GDP is 73,000 USD, and ranks No.1 in Asia. As a world-renowned business and trade cooperation platform and a gambling oriented world traveling city, it has earned more and more attention on environmental protection in recent years. "The operation test of BYD ebus will play a significant part of Macau's environment protection in the future!" Said a BYD worker.
Since roads in Macau are winding and narrow. The road operation test situation of the phase 2 is strict, avoiding the flat and broad roads of a normal test. In the next few months, the electric bus will be tested on the complicated roads of Macau's old town and historic core districts to test its energy consumption rate, driving range, braking system, fuel economy, energy saving and emission avoidance. The whole process will be monitored by an expert team which is made up of Macau government officials, technical professionals, and experts all over the world, which sets the bar quite high for BYD.
Motor vehicle emissions are the major source of air pollution in Macau, in order to reduce the impact of emissions on the environment caused by heavy buses, the Macau SAR government has launched a series of policies and measures to control motor vehicle exhaust emissions. On the issue of the energy saving performance of electric buses, according to a public Macau SAR Government data, emissions per hundred kilometers of electric buses over diesel buses to reduce carbon dioxide per hundred kilometers by 56%, nitrogen oxide emissions will be reduced by 60%, and electricity is a lot cheaper than oil, energy saving benefits will be obvious and beneficial for all.
Macau's largest public transportation system is characterized by hilly terrain, and complicated road conditions. According to BYD's specs, the driving range of the bus is 250 km, and the charging down-time is short enough to occur over an evening's rest. Utilizing the industry leading Iron-Phosphate battery, created by BYD, it has the advantages of energy saving, long cycle life and 100% environmental friendly. Anyone who has worked with the technology sees nothing but upside for the future of this product.
The BYD battery-electric bus has been already put into operation in Shenzhen, Changsha, and Xi'an. The accumulated range of BYD's bus fleet in Shenzhen surpassed 22 million km. Not long ago, the BYD electric bus was also demonstrated in Hong Kong. In overseas markets, till now, BYD's battery-electric buses have operated in United States, Canada, Netherlands, Spain, Hungary, Denmark, Bulgaria, Brazil, and Uruguay among others. The actual operating data has continued to prove the viability of pure electric buses.
About BYD
BYD Company Ltd. is one of China's largest companies and has successfully expanded globally. Specializing in battery technologies, their green mission to "solve the whole problem" has made them industry pioneers and leaders in several High-tech sectors including High-efficiency Automobiles, Electrified Public Transportation, Environmentally-Friendly
Energy Storage
, Affordable
Solar Power
and Information Technology and Original Design Manufacturing (ODM) services.
As the world's largest manufacturer of rechargeable batteries, their mission to create safer and more environmentally friendly battery technologies has lead to the development of the BYD
Iron Phosphate (or "Fe") Battery
. This fire-safe, completely recyclable and incredibly long-cycle technology has become the core of their clean energy platform that has expanded into automobiles, buses, trucks, utility vehicles and
energy storage
facilities. BYD and all of their shareholders, including the great American Investor Warren Buffett, see these environmentally and economically forward products as the way of the future.
BYD has made a strong entrance to the North, Central and South American markets with their
battery electric buses
, and lineup of automobiles. Their mission lies not just in sales growth, but also in sociological integration and local job creation as they have poured incredible investments into developing offices, dealerships and manufacturing facilities in the local communities they now call home, truly a first for Chinese companies. For more information, please visit
www.byd.com
or
www.facebook.com/bydcompany
.
Connect with The Crittenden Automotive Library