BYD Introduces All-Electric Bus and Signs Agreement with Hunan Province for 1000 K9 e-Buses
BYD Introduces All-Electric Bus and Signs Agreement with Hunan Province for 1000 K9 e-Buses
BYD
September 30, 2010

CHANGSHA, PRC – September 30, 2010, BYD's all-electric K9 e-bus was officially unveiled at a contract signing ceremony held in BYD's Changsha Industrial Park. Warren Buffett and Bill Gates attended the ceremony with BYD's Chairman and President Wang Chuanfu.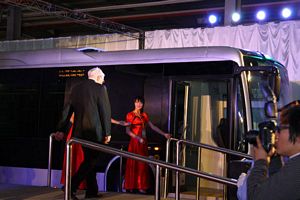 (Warren Buffett got on BYD e-bus K9)
The K9 is the first pure-electric bus designed by BYD and produced independently at BYD's Changsha-based Bus manufacturing site. This new e-Bus concept utilizes BYD's unique environmentally-friendly, Fe battery system, in-wheel motors, and intelligent battery management systems. The battery storage elements and the large solar system on the top of the bus provides all of the power to the K9, making it emissions-free during its relatively smooth ride. The 12m long K9 has a silver body with tinted glass and is designed with three conveniently low-entry, passenger doors, making it easy for passengers to get on and off the bus. The K9 can reach speeds over 43 mph and can travel 190 miles on a single electric charge (without solar contribution). Using the BYD standard charging cabinet, the K9 can be fully charged in 6 hours with normal charger or it can be rapid-charged 50% on BYD's proprietary rapid-chargers in an incredibly short 30 minutes.
BYD has become the fastest-growing Chinese auto brand. One of BYD's sedan models – the F3, hit a record sales of 290,963 units in 2009 and became the best-selling model of the 2009 model year. It is also the only model that has beaten the monthly sales record of 30,000 units for six successive months. With the reputation of the F3, BYD's B-segment model -- the F6 and the mini-compact model -- the F0, became widely popular when they entered the Chinese auto market.
During the K9 rollout ceremony, BYD also signed an important contract with the Hunan Government to provide 1,000 K9 e-Buses to Hunan public transportation. Government officials cited that, "This will greatly help decrease the air pollution in Hunan and be a model for clean public transportation for the whole country." The K9 e-bus emissions "impact", when charged exclusively from the grid, is estimated to be equivalent to over 30 gasoline vehicles running on China's roads.
Chairman Wang stated "BYD's dream is to help solve the World's pollution problems and achieve the goal of reduced oil dependence—the K9 e-bus is a great asset for communities who are concerned about the environment, and when coupled with renewable power generation and energy storage, we achieve a complete ZERO-emissions-solution that we can create for our consumer and public transportation."
Contacts: BYD Overseas PR
Email: bydpr@byd.com
Tel: +86 0755-89888888 ext. 62527
Connect with The Crittenden Automotive Library