Army, National guard cars set for Daytona 500
Army, National guard cars set for Daytona 500
Tim Hipps/IMCOM Public Affairs
February 24, 2012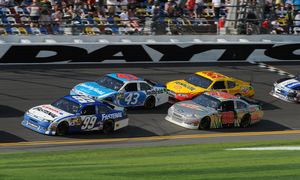 Dale Earnhardt Jr. drives the No. 88 Army National Guard/Diet Mountain Dew Chevrolet to a second-place finish behind reigning NASCAR Sprint Cup Series champion Tony Stewart in the first Gatorade Duel on Thursday at Daytona International Speedway in Daytona Beach, Fla. In this photo, Carl Edwards (99) leads the way, followed by Aric Almirola (43), Earnhardt and A.J. Allmendinger (22). U.S. Army photo by Tim Hipps, IMCOM Public Affairs
Ryan Newman drives the No. 39 U.S. Army/Quicken Loans Chevrolet to a ninth-place finish in the second Gatorade Duel at Daytona race Thursday at Daytona International Speedway in Daytona Beach, Fla. Newman will start 18th in the 54th running of the Daytona 500 on Sunday. U.S. Army photo by Tim Hipps, IMCOM Public Affairs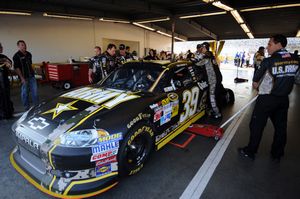 Driver Ryan Newman and members of the U.S. Army/Quicken Loans race team work on the No. 39 Chevrolet after finishing ninth in the second Gatorade Duel at Daytona race Thursday at Daytona International Speedway. Newman will start 18th in the 54th running of the Daytona 500 on Sunday in Daytona Beach, Fla. U.S. Army photo by Tim Hipps, IMCOM Public Affairs
DAYTONA BEACH, Fla. -- Dale Earnhardt Jr. finished second in the first race and Ryan Newman ninth in the second race of the Gatorade Duel at Daytona on Thursday.
The 150-mile races at Daytona International Speedway help set the starting grid for Sunday's 54th running of the Daytona 500.
Earnhardt pitted a race-high three times but managed to finish in the same position he started in the No. 88 Diet Mountain Dew/Army National Guard Chevrolet.
"I think it was pretty good," said Earnhardt, who will start fifth in the Daytona 500. "We always want to get better, and we think we have a couple of things we can improve on and make the car faster."
Reigning NASCAR Sprint Cup Series champion Tony Stewart won the first race and will start third on Sunday.
"Tony did a great job and he won the race," said Earnhardt, winner of the 2004 Daytona 500 and a two-time runner-up in "The Great American Race." "He always knows how to get up there. You are going to have to beat him to win these things. He is one of the guys that is always going to be there."
Ditto for Earnhardt, who has won three Gatorade Duels at Daytona.
"I feel good about running second and bringing home a car in one piece," Earnhardt said. "Hopefully, we will get through the next couple of days without any troubles as far as we don't want to pull out a back-up. We want to start the 500 with this car. That has been our goal all week.
"We were able to race in this race and still take care of our equipment. I am pretty proud."
Newman also was able to hold his ground and avoid trouble in the No. 39 U.S. Army/Quicken Loans Chevrolet. He started eighth and finished ninth in the second race won by 2009 Daytona 500 champion Matt Kenseth, who will start fourth Sunday.
Newman, winner of the 2008 Daytona 500, will start 18th on Sunday. Since winning the "Super Bowl of Stock Car Racing," Newman has not finished better than 20th at Daytona -- at the 2009 Coke Zero 400 in July -- and has endured three finishes of 34th or worse.
In 2011, Newman was in contention until getting collected in a multi-car crash with three laps remaining in the Daytona 500. In the July race, he led a race-high 25 laps before another last-lap crash ended his chances.
"Last year, we led the most laps in the Daytona 500, which was a great feat for us as a team," Newman said. "It was the first time for me at a restrictor-plate track. And we feel like we were four laps from winning that race which, if you equate it to math, time-wise it's about two and a half minutes.
"To be two and a half minutes from something so big and get crashed is pretty disappointing. It happens, and it seems like it's happened to us a lot, but we still left Daytona knowing we had something and we were in the mix to bring home the trophy, and that was a big deal for us."
Newman also considers it a big deal to drive for the troops.
"I've said for the past several years that it is an honor to represent the U.S. Army," he said. "We know that we are representing a million Soldiers across the globe who are fighting to give us the freedom to do what we want to do, and I'm very grateful for what they do for us. I know I have a million reasons to win every time I put on that U.S. Army uniform."
Nowhere does it feel quite as special as Daytona International Speedway in February.
"It's the biggest race of the year," Newman said. "It's the same for everybody and you have the opportunity to beat every part of the competition. That's the goal.
"In 2008, we had a good car. We had a good team. The seas parted. We opened the back straightaway up and, all of a sudden, boom: we had a shot at it, and we did it. We just need to put ourselves in that position again. That's all you can ever ask for."
Earnhardt, who was voted NASCAR's Most Popular Driver for the past nine seasons, also senses the allegiance of his fans.
"I know we have a lot of followers that get excited," he said. "We want to get in the lead as much as we can just for that reason. If the fans weren't here, and didn't stand up every time you took the lead, there wouldn't be a whole lot of point in doing it.
"Going into the lead wouldn't be a whole lot of fun -- not as much as it is now."
Connect with The Crittenden Automotive Library