Chad Hackenbracht Sets Record Straight with New Shirt
Chad Hackenbracht Sets Record Straight with New Shirt
Chris Knight
Knight Motorsports Management/CGH Motorsports
June 25, 2011



(WINCHESTER, Ind. - June 25, 2011)
- - With Chad Hackenbracht finding his way to the top 10 at the end of a race for the first time last month and then scoring his first top-five finish last week, the New Philadelphia, Ohio driver figured it was time to make it known exactly how his last name is pronounced.
Last week at Michigan International Speedway, the driver unveiled a new T-shirt that's making the rounds in the ARCA Racing Series presented by Menards garage, a garment featuring a clever quiz of sorts that asks exactly: "What's a Chad Hacken-something?"
Having heard his name often pronounced by fellow competitors, journalists, and fans as "Hack-en-brack," the 19-year-old and his advisors decided to have some fun with the common misconception, releasing a T-shirt that gives the following answers for what a "Hacken-something" might be. The choices on the shirt, showcased by SPEED reporter Bob Dillner on the RainEater Wiper Blades 200 broadcast, were as follows:hackenbrachtcandidchico345.jpg
A. Fancy German Beer
B. Small Brazilian Amphibian
C. What your father does when he has a sinus infection
D. A Race Car Driver
E. Name of scientist responsible for discovering time travel
F. Eighth color in the rainbow
G. An in-grown toe nail
The answer, of course, is D, for Race Car Driver, and the Tastee Apple Chevrolet's driver even included a simple pronunciation guide at the bottom of the hackenbrachttshirtweb700.jpgchart, instructing readers to pronounce his name "Hock-en-bra."
Hackenbracht watched the race broadcast on replay to review his fourth-place finish, and smiled when seeing the clip featuring his novelty wear.
"It was pretty cool to see the shirt on TV," he said. "When I got off the track I had 18 missed texts, all from people that wanted a shirt. It was a really big hit and it's pretty cool that SPEED did that for us."
Hackenbracht said that his name has been represented incorrectly for some time, and that he had fun working to educate others on the correct pronunciation.
"Almost everyone mispronounces my last name," he said. "The Hacken-something started from a Canadian drifter I know who couldn't say my last name so he just called me Hacken-something, so from there we gave the idea to the ad agency and they had a blast coming up with the shirt! Common ways that people say it wrong are 'Hack-en-brack,' 'Hock-en-brach,' 'Hack-en-sack'...they just keep getting stranger and stranger.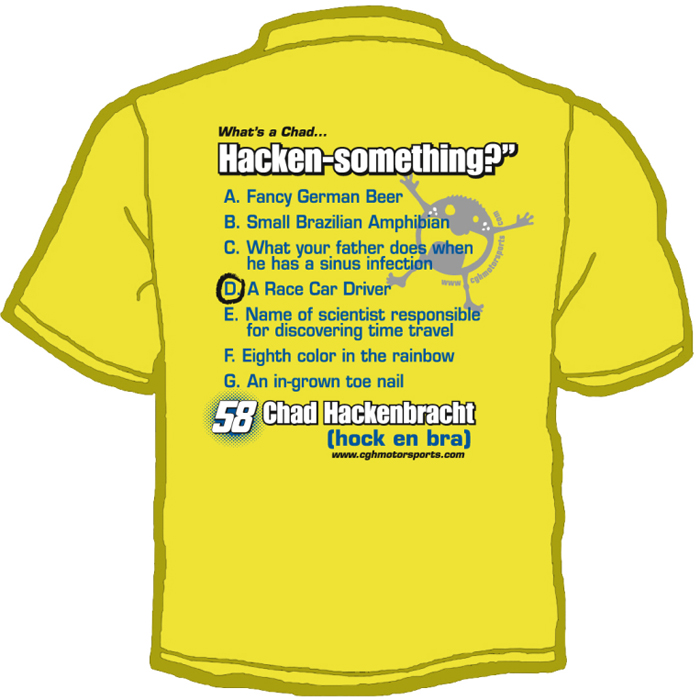 "But now they'll know how to say it correctly!"
Hackenbracht will compete in Saturday night's Winchester ARCA 200 presented by Federated Auto Parts at Winchester Speedway, which is the ninth of 19 races in the ARCA Racing Series presented by Menards season. Practice begins at 1:45 p.m. and lasts for 90 minutes, and will be followed by Menards Pole Qualifying presented by Ansell at 4:45 p.m. The 200-lap, 100-mile race begins at 8 p.m., with live coverage available at ARCARacing.com.
To purchase the popular "What's A Chad Hacken-Something" tee-shirt, please log on to store.cghmotorsports.com or CGHMotorsports.com.
###
CONTACT INFORMATION:
NAME:
Chris Knight, Knight Motorsports Management
PHONE:
239.834.9797
EMAIL:
chris@chrisknightpr.com
Connect with The Crittenden Automotive Library