Jubans Say Boda Boda Ban Makes Travel Tougher, Fares Higher
Jubans Say Boda Boda Ban Makes Travel Tougher, Fares Higher
Mugume Davis Rwakaringi, VOA News
21 August 2013 (9:42PM)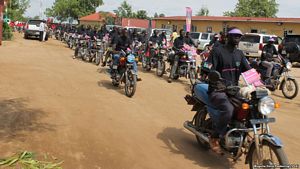 Boda boda drivers in Juba in July.
JUBA, SOUTH SUDAN — Juba residents are complaining that a ban on foreign-operated boda bodas -- the motorbike taxis that are a popular mode of transport in South Sudan -- has made getting around the capital more difficult and costly.
Three days after the ban took effect, residents of the capital said South Sudanese motorbike-taxi drivers have hiked their fares, as foreign drivers, who made up around 60 percent of the boda boda operators in Juba, have stopped offering rides.
Food distributor Kamenge Solomon said a trip that used to cost 7 South Sudanese pounds now costs at least 10 -- an increase of more than 40 percent.
But South Sudanese boda boda drivers said the ban, which was imposed by the Interior Ministry in a bid to stop foreigners taking jobs away from locals, was a good thing and has boosted the work opportunities available to them, not to mention how much money they now make.
South Sudanese boda boda operator Kenyi Taban said that, since the ban, he has earned in two days what would usually take him a week to make.
Another, Taban David, said he now earns enough money to support his extended family.
"Our grandmother, our grandfather they are now happy because we are now getting money, we are now helping them. Before we were not about to get the money, we just stayed idle," he said.
Another benefit of the ban is that South Sudanese youths who used to stand around on street corners are now using their time to make some money by driving a boda boda, locals said.
According to the South Sudan Boda Boda Association, more than 5,000 motorbike taxi drivers operate in Juba alone. Before the ban, more than 3,000 of them were foreigners, mainly from Uganda.
Connect with The Crittenden Automotive Library