New Uganda Campaign Aims to Prevent Motorbike Accidents
New Uganda Campaign Aims to Prevent Motorbike Accidents
Hilary Heuler, VOA News
29 August 2013 (11:39AM)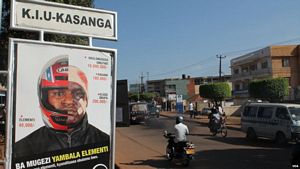 The Global Helmet Vaccine Initiative has mounted a campaign to encourage boda boda drivers to wear helmets, Kampala, Aug. 26, 2013. (Hilary Heuler/ VOA)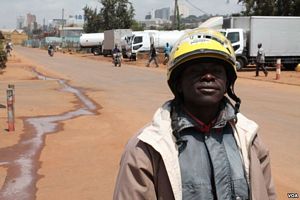 Boda boda driver Keneth Owuma shows off his new helmet, Kampala, Uganda, August 28, 2013. (Hilary Heuler for VOA)
KAMPALA — In Kampala, motorbike taxis, or boda-bodas, provide jobs and plug gaping holes in the public transport system. But accidents are frequent, and often deadly. The Global Helmet Vaccine Initiative is trying to train drivers on road safety and convince them to wear helmets, in an effort to stop the carnage without banning bikes altogether.
No city is as synonymous with boda-bodas, or motorbike taxis, as Kampala. Vast fleets of the two-wheeled terrors choke intersections and negotiate even the roughest roads. No one knows exactly how many there are, but the local media reports that as many as 300,000 boda-bodas could be plying the streets of the Ugandan capital, always on the lookout for passengers.
Since their introduction in the 1990s, they have become indispensable. Kampala has little other public transport, and driving a boda-boda is an easy job to pick up in a country with high unemployment rates.
In fact, it might be too easy, according to boda-boda driver Moses Wamboya.
"Most of the boda-bodas, they just learn from their friends. So once he knows how to start it, and then if he can balance the clutch and the accelerator, he tells himself that 'now I know.' So at the end, accidents," he explained.
The rate of accidents is staggering. A 2010 study done by the country's largest referral hospital found that boda-boda drivers and passengers suffered 75 percent of road traffic injuries, and took up over 60 percent of the hospital's surgery budget.
For Andrew Sekitoleko, a doctor at a Kampala hospital, these numbers are hardly surprising.
"It is dangerous because you are the body of the vehicle, so there is no protection and it is just your body on the tarmac," he said. "Or many people have talked of flying off the bike and into a ditch or into a van or right onto the tarmac. You could get hit by another car that is passing by. Most of the time you are going to see a head injury, but almost any body part can be affected."
Part of the problem, Sekitoleko explained, is the lack of helmets. Uganda passed a helmet law in 2004, but it is rarely enforced.
Wamboya, who has been on the road for 10 years, noted that even those who have helmets do not always understand what they are for. He said they only put them on when they see the police.
"They think that they are just doing a favor to put it on," Wamboya said, "maybe to assist the police or the traffic [police], so that they cannot be arrested."
It is this kind of ignorance that makes boda-bodas so risky, according to Barbara Mwanje of the Global Helmet Vaccine Initiative, or GHVI. By training boda-boda drivers and giving them helmets, her organization hopes to change that.
"We show them, of course, really gruesome pictures from the hospitals of real injured Ugandan motorcyclists," she said. "We talk about the reasons for helmet use, we try and go through what a helmet does in the event of an accident. We also talk about the traffic laws and regulations of the country, especially those that are relevant to a motorcyclist. And then defensive riding, just teaching this rider to be more observant, and to expect the other rider to be a bit crazy."
Motorbike taxis can be found all over Africa, although some cities, including Nairobi, have banned them.
"A lot of people are relying on these boda bodas in all manners, whether it's to ferry schoolchildren or people to work, and even people who are ill and need to get to a hospital. It's the boda-boda that they are relying on," said Mwanje, adding that Kampalans are too hooked on boda-bodas for such a ban to work.
That is why GHVI reaches out to the drivers instead.
They have mounted a billboard campaign in the capital, and have trained around 2,000 drivers.
Keneth Owuma, who was trained several months ago, said he has plenty of colleagues who have been injured.
"They have broken all two legs, and others, they have died. Almost 10, I know them," he said regretfully. "They have died because they have no helmets, they have never learned how to drive."
Owuma said he never used to wear a helmet either, because he did not understand what it was for. But since his training with GHVI, he has become a better, safer driver.
"Now I am not overtaking anywhere where [I am] not supposed to overtake. I can not carry two passengers, they are not allowed, because now I have learned what is dangerous. I have learned how to be safe on a boda-boda, [and] I must wear a helmet," he said.
According to Mwanje, what Kampala really needs is better regulation of drivers and motorbikes. But in the meantime she is just trying to make the roads safer, one boda-boda at a time.
Connect with The Crittenden Automotive Library