South Sudan Women Break the 'Grease' Ceiling
South Sudan Women Break the 'Grease' Ceiling
Mugume Davis Rwakaringi, VOA News
Last Updated: 12 March 2015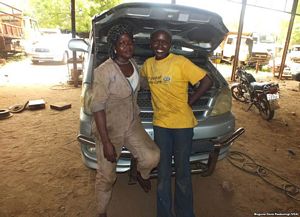 Elizabeth Yacob (R) was hired on the spot when she applied for a job as a car mechanic in Juba, South Sudan. Her colleague, Diane Andrew (L), used to be a tea lady but made the leap to servicing cars to make more money.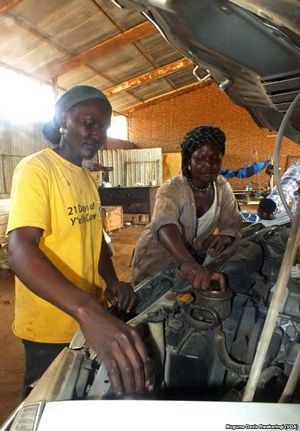 Car mechanics Elizabeth Yacob (L) and Diane Andrew service a vehicle at the University of Juba Auto Garage in the South Sudan capital.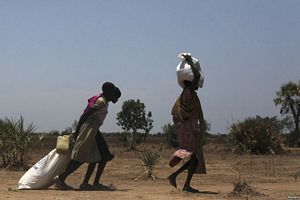 Only 16 percent of South Sudanese women can read and write, and only 12 percent are formally employed, leaving them very vulnerable when crisis erupts.
JUBA — When Joseph Akeich James takes his grey minibus to the University of Juba Auto Garage for service, he always asks for the same mechanic. He says his preferred mechanic is meticulous, honest and trustworthy, and stands out from the rest because of those traits.
But there's another reason this particular mechanic stands out: Elizabeth Yacob is a woman, and women mechanics in South Sudan are as rare as hen's teeth.
When she was a little girl, Yacob's dream was to become an engineer. But when she was 18 and had finished school, her parents told her there was no money left to pay for higher education. They also said it was high time that Yacob should get married.
But Yacob did not want to give up on her dream just yet. Encouraged by her brother, she enrolled in an auto mechanics' school in Yei in 2008. She graduated a year later, fully qualified to drive and work on motor vehicles.
First woman to apply
Her diploma in hand, Yacob went straight to the garage where she now works and asked for a job. She was hired on the spot -- partly because she was the first woman applicant they had ever had.
Today, she works alongside several men and one other woman, Diane Andrew. Andrew is a single mother who used to sell tea but made the leap into auto mechanics so that she could make more money. The garage pays each of them 1,400 South Sudanese pounds a month. That's enough for Yacob to buy a plot of land, where she hopes to build a house, and for Andrew to look after her eight-year-old son.
Like other working women around the world, Yacob says her daily obligations do not start and stop at the garage.
"When I wake up in the morning, I first clean my compound and prepare tea for the children, and then I come to work. From there, I go to the market and then I go and make food for the children," she says.
She met her husband, who is also a mechanic, at the garage. He understands his wife is carrying a double workload, and tries to help out as much as he can at home. Other men chip in and watch Yacob's 18-month-old daughter who often acccompanies her mother to work.
Exceptions to the rule
Yacob and Andrew are exceptions in South Sudan. According to Women for Women International, a non-governmental organization that gives marginalized women in countries affected by conflict the tools and skills they need to be economically self-sufficient; the U.N. Children's Fund, and international anti-poverty non-profit Oxfam, only 16 percent of South Sudanese women over the age of 15 can read and write, compared to 40 percent of men.
In a country profile of South Sudan published in 2013, Oxfam says only 12 percent of women and 11 percent of men are "officially" employed. For female-headed households in South Sudan, the main source of livelihood is crop farming (71 percent), followed by wages and salaries (10 percent), the profile says.
Statistics from South Sudan's Ministry of Gender, Child and Social Welfare show that nearly half of South Sudanese girls between the ages of 15 and 19 are married, many of them against their will. Girls as young as 12 are married off sometimes, in exchange for a dowry, the data show.
Connect with The Crittenden Automotive Library