Toyota Safety Sense Wins 2016 Yankee Technology Cup Award
Toyota Safety Sense Wins 2016 Yankee Technology Cup Award
John Goreham, TorqueNews
2 June 2016 (16:46)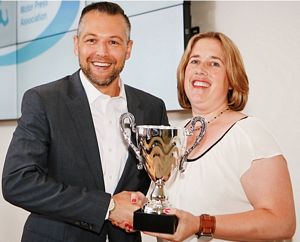 Corey and Nicole at NEMPA
NEMPA chooses Toyota's innovative safety suite as its top technology pick for 2016.
The New England Motor Press Association (
NEMPA
) chose Toyota's safety suite with forward collision prevention and automatic emergency braking as this year's winner of the Yankee Technology Cup. The Yankee Technology Cup is awarded to an automotive feature or system that significantly enhances the motoring experience, whether by making driving safer, more cost-efficient or simply more enjoyable. The winner is selected with input from the faculty at MIT, who work in conjunction with NEMPA to host the annual awards event. (More details on page 2)
NEMPA Vice President, Nicole Wakelin, presented the Award to Toyota's Corey Proffitt. Toyota had a big night at the annual event. In addition to the Yankee Technology cup, Toyota's
RAV4 Hybrid earned the Best In Class green SUV/Crossover
. The
Tacoma took home the Best in Class All-Weather Mid-Size or Compact Pickup Truck Award
.
Toyota's long reach was also evident at the awards. Two of the MIT industry experts who spoke at the event's technical seminar,
Dr. Gill Pratt
and Dr. John Leonard, are working in some capacity with Toyota in the development of cutting-edge vehicle automation.
To learn more about Toyota Safety Sense, Please see our two focus stories:
-
Toyota and Lexus launch new lower cost active safety systems
-
Toyota joins nine other automakers making emergency auto-braking standard
Source:
http://www.torquenews.com/1083/toyota-safety-sense-wins-2016-yankee-technology-cup-award
Connect with The Crittenden Automotive Library