Hultgren Hosts Transportation Chairman Shuster, Illinois Stakeholders for Chicago Roundtable
Hultgren Hosts Transportation Chairman Shuster, Illinois Stakeholders for Chicago Roundtable
Congressman Randy Hultgren
October 20, 2015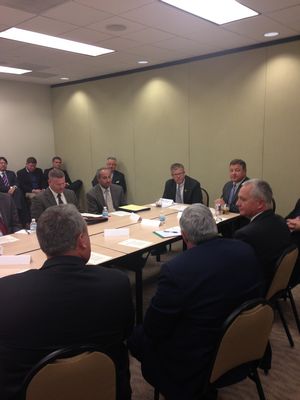 (Reps. Hultgren, Shuster and participants)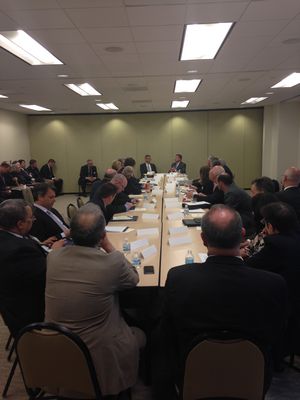 (Reps. Hultgren, Shuster and participants)
Washington, DC — U.S. Representative Randy Hultgren (IL-14) yesterday hosted Rep. Bill Shuster (PA-09), Chairman of the House Committee on Transportation and Infrastructure, along with representatives from Illinois transportation authorities, county and city governments, universities and industry for a discussion on the challenges Chicago and the State face in maintaining and upgrading our infrastructure and its impact on National and State competitiveness. Included in the discussion was a focus on how to address the long-term funding needs of the region.
"The Chicago region is a central hub of transportation in our nation and world, from the commuters who use our roads and trains every day to get to work, to the vast amount of freight, food, and manufactured products that pass through our ports, highways and rails. However, we face roads in disrepair and a failing infrastructure. Those challenges are coupled with a lack of adequate long-term funding and a hampered ability to capitalize on technical innovation," said Rep. Hultgren. "I was honored to bring Chairman Shuster to Illinois to see first-hand the challenges we face, and brainstorm how to unleash our deep capabilities as a transportation hub as he prepares to markup the highway re-authorization bill later this week in Committee. Chairman Shuster reiterated his strong desire to craft and pass a six-year funding bill, and ensure at least three years of funding to give certainty to states and local communities to complete ongoing efforts and plan and pursue new projects for the future."
As a former member of the House Committee on Transportation and Infrastructure, Rep. Hultgren helped lead efforts to strengthen existing transportation resources and develop a long-term strategy to meet the needs of the future. Transportation officials from the 14th District regularly brief Rep. Hultgren on transportation projects underway, and challenges and future needs for the area. He recently hosted a public forum on how the community can take advantage of the power of technology to transform northern Illinois transportation, featuring representatives from Uber, General Motors, Fermilab, CSX and the Illinois Department of Transportation.
Kirk Dillard; Chairman, Regional Transportation Authority
Joseph Szabo; Executive Director, Chicago Metropolitan Agency for Planning
Thomas Kotarac; Deputy Executive Director, Chicago Metropolitan Agency for Planning
Martin Oberman; Chairman, Metra
Michael Sturino; President, Illinois Road and Transportation Builders Association
Robert Ginsburg; Manager, College of Urban Planning and Public Affairs, University of Illinois Chicago
Beth McCluskey; Director, Division of Public and Intermodal Transportation, Illinois Department of Transportation
Dave Bender; Executive Director, American Council of Engineering Companies of Illinois
Mike Kleinik; Executive Director, Chicago Laborers' District Council
Marc Poulos; Executive Director, Indiana, Illinois, Iowa Foundation for Fair Contracting
Greg Bedalov; Executive Director, Illinois State Toll Highway Authority
Paul Piekarski; Chairman, Illinois State Legislative Board Brotherhood of Locomotive Engineers and Trainmen
Hugh O'Hara; Executive Director, Will County Governmental League
Jennifer Krug McNaughton; Vice President, K-Five Construction Corporation
Jim Coston; Chairman, Corridor Capital LLC
Ben Brockschmidt; Vice President of Policy, Infrastructure Council, Illinois Chamber of Commerce
Fred D'Escoto; President, D'Escoto Inc. Construction Management
Yonah Freemark; Project Manager, Metropolitan Planning Council
Charlie Gallagher; President, Gallagher Asphalt Corporation
Chris Snyder; Director of Transportation, DuPage County
Scott Gryder; Vice Chairman, Kendall County Board
Rod Craig; President, Village of Hanover Park
Karen Darch; President, Village of Barrington
Doug Sullivan; Department Manager Chicago Region, PACE
Marise Stewart; Director of Government and Industry Relations, Progress Rail
###
Connect with The Crittenden Automotive Library