Thai Loxley and Chinese BYD Bring Electrified Transportation into Thailand
Thai Loxley and Chinese BYD Bring Electrified Transportation into Thailand
BYD
March 20, 2015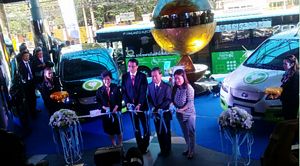 Deliveryceremony of BYD ebus and e6 crossover held in Thailand on Mar.18th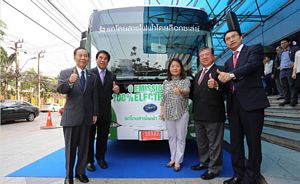 BYD electric buses were highly praised in Thailand
Loxley Plc. has gone into partnership with global green tech leader BYD Co. Ltd. to launch the first Electrified Transportation scheme in Thailand, comprising zero-emission pure electric buses and passenger cars. Two BYD fully-electric models will be launched simultaneously: the K9 bus and the e6 crossover. Loxley is confident of the BYD brand name, which is highly acclaimed in the electric vehicle circle and distinguished by its state-of-the-art battery technology. As potential customers, Loxley Plc. is focusing on public transport companies, government and private organizations.
The company took quite some time analyzing the market for electrified transportation in Thailand before it finally made a move to introduce it in the country. They fully rely in the quality, performance and safety of BYD's electric vehicles. Additionally to the zero emission factor, they expect to make a contribution to decrease the import of fossil fuel from foreign countries. Another distinguished feature of electric vehicles is the lower maintenance cost as compared to regular fossil fuel vehicles. In addition to being fully recyclable, after 10,000 charge cycles the BYD Iron-Phosphate battery used in the vehicles still retains 70% of its capacity and can be repurposed for diverse energy storage needs.
Maintenance will initially be carried out in 5 service centers in Bangkok and surroundings, that the Company will define along with its partners. Additional service centers will be established at a later stage. Charging stations will be built near the areas where the service centers are located. There is also a plan to expand central charging stations in Bangkok and vicinity according to users' demand.
The Company believes that the current EV government policy will boost sales and achieve steady growth in the first few years. Electric buses are expected to be particularly well accepted, increasing sales prospects of other models.
Liu Xueliang, general manager of BYD's Asia pacific auto group stated, "BYD is the leader in battery and electrical vehicle technology. The Company currently exports its electric vehicles all over the world, chiefly the European Union, the U.S.A., Australia, Brazil, and Singapore . BYD's latest achievement was the delivery of 5 electric buses to Japan's Kyotokyukou Bus Incorporated¬ in February 2015. BYD is very pleased to count on Loxley's expertise in the Thai market in this cooperation to bring electrified transportation to the people of Thailand. This is not only about the cooperation between BYD and Loxley, it is also about bringing electrified public transportation to Thailand." Along with the vehicles, BYD is ready to provide the whole charging infrastructure and technical support for the success of EV in the country.
About Loxley
Loxley Plc., has been continuously operated for more than 76 years. The Company comprises 6 major business groups, namely: Information Technology and Communication Business Group; Technology Business Group; Project Business Group; Trading Business Group; Service Business Group, and; Joint Venture Business Group. Its operation covers products and service in Information Technology and Communication, infrastructure, consumer electronics, printing, TV and radio transmitters, transportation system, controlling system, energy, lottery, security system, media and education, chemical products, construction products, consumer products, real estate, environmental friendly products, food service, electronic commerce, agricultural business, international trading and investment, as well as information technology for aviation and Digital TV Receivers, IPTV Tuners, Car Multimedia Player, etc. For further information, please see www.loxley.co.th.
About BYD
BYD Company Ltd. is one of China's largest companies and has successfully expanded globally. Specializing in battery technologies, their green mission to "solve the whole problem" has made them industry pioneers and leaders in several High-tech sectors including High-efficiency Automobiles, Electrified Public Transportation, Environmentally-Friendly Energy Storage, Affordable Solar Power and Information Technology and Original Design Manufacturing (ODM) services.
As the world's largest manufacturer of rechargeable batteries, their mission to create safer and more environmentally friendly battery technologies has led to the development of the BYD Iron Phosphate (or "Fe") Battery. This fire-safe, completely recyclable and incredibly long-cycle technology has become the core of their clean energy platform that has expanded into automobiles, buses, trucks, utility vehicles and energy storage facilities. BYD and all of their shareholders, including the great American Investor Warren Buffett, see these environmentally and economically forward products as the way of the future.
BYD has made a strong entrance to the North, Central and South American markets with their battery electric buses, and lineup of automobiles. Their mission lies not just in sales growth, but also in sociological integration and local job creation as they have poured incredible investments into developing offices, dealerships and manufacturing facilities in the local communities they now call home, truly a first for Chinese companies. For more information, please visit www.byd.com
Connect with The Crittenden Automotive Library