Omigod! I Was Like Totally, Y'know?
Omigod! I Was Like Totally, Y'know?
Geoff Maxted
DriveWrite
August 26, 2013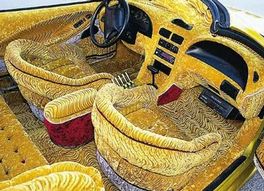 'Oh! My! God! When Dave said, "Princess, want some new wheels, yo?" I was like totally "Babes!". It was like the best prezzie eva an I was like crying an all? There was like tears coming out of me nose. We was watchin this advert and there's this like totally cute car, you know? It was like peekin round corners and there was all these cool dudes, like, drawing on the walls an dancing an stuff. An it had like this really cute boys name y'know? It was like biblical an I thought, omigod, it totally reminds me of God an stuff. You can like pick out the colour of the roof and totally have the inside how you want it. Dave says, "Princess, you want like all the leather trim bits innit and the glass roof panel so's you can look at the stars". Dave's a romantic innit, e's always sayin nice lovey things like that. An I'm definitely having it pink cos it matches me iphone an it like says who I am, y'know? I was like totally blown away! Test drive? What's, like, the point of that? It's gonna be pink….etc'
That is part of an extended interview that DriveWrite had with a Mrs S Cameron of London just the other day whilst vacationing in Cornwall. The purpose of this in-depth investigation was to establish the reasons why cars have become lifestyle accessories - mere baubles - to increase status on the streets. What has it come to when what should be primary concerns like the 0-60mph time or the fuel economy are put on the back burner to be replaced by the imperative that is trim?
DriveWrite does not have a problem with the downsizing of engines and the rise of the city car. These things make sense. Frugal, economic motoring is here to stay and there's nothing wrong with that. What is wrong is that the whole meaning of the automobile is being sucked into a maelstrom of mediocre trendiness. A trinket nation.
There has always been a customising culture within the car community but that was about making your wheels as individual as possible and, most importantly, you did it yourself.
Now of course buyers can order their car blinged up to the nines and factory fresh. No effort needed other than a flex of a credit card. The end result will be, mark these words, streets full of personalised cars that, in their way, are all going to be the same. The golden age of motoring is so over. DriveWrite will nevertheless continue to fight the corner of what's right and buy the next car based on performance and driveability. This time though, I am like totally having the gloss black 20" alloy option.
Connect with The Crittenden Automotive Library