New Car Sales Continue To Accelerate
New Car Sales Continue To Accelerate
Geoff Maxted
DriveWrite
November 8, 2013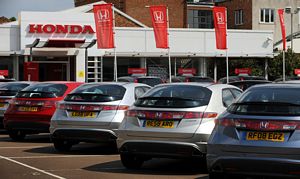 An increasing amount of drivers are hoping to drive a car off the forecourts by February 2014.
Motorists are buying more new cars but willing to pay less for them, new research shows. Some 18% of adults are interested in taking advantage of new car deals from respected manufacturers like Honda, in the months up to and including February 2014, according to recent research by Sainsbury's Bank.
This figure represents a 28% increase on those who planned to buy a car over the previous six months. However, the research also suggests that people are not willing to fork out as much for their car, with the average price people are likely to pay standing at £9,934, some 3.5% less than in the previous period.
Those looking for a new car are looking to pay an average of £17,958 while those considering car deals for used models will look to pay about £5,170. Around a quarter of those surveyed said they would part exchange their car for another used one, while 19% are looking for a vehicle with a smaller engine. Just over one in 10 (12%) said they would be looking to change from a petrol car to a diesel.
Steven Baillie, head of loans at Sainsbury's Bank, said: "Our car-buying index provides a barometer of consumers' intention to buy and the research suggests people are really thinking about the right vehicle option for their family finances."
The increase in demand for new cars is reflected in Japan, where the latest model of Honda's Jazz model (called the Fit in the Asian market) has proven particularly popular. 
The car giant has received 62,000 orders for the new compact car since it went on sale at the start of September. This figure is more than four times the company's initial estimate of 15,000 for the first month.
According to Honda, 57% of these orders are from drivers switching from rival automakers, more than the typical 30-40%.
Official motor industry figures in the UK show new car sales last month soared to a 66-month high, with year-to-date sales up nearly 11% on the January-September 2012 total.
Connect with The Crittenden Automotive Library