First Long Range, Zero-Emissions, All-Electric Bus Approved for Sales in Canada
First Long Range, Zero-Emissions, All-Electric Bus Approved for Sales in Canada
BYD
April 18, 2014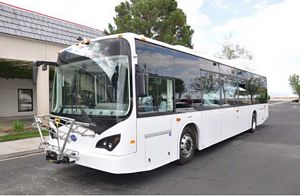 Pictured Above: The BYD electric transit bus in front of the BYD Motors Assembly Plant in Lancaster, CA
BYD 12 meter electric bus first to achieve CMVSS certifications and be registered with Transport Canada
OTTAWA, CANADA: The BYD Electric Transit Bus, making news across North America, is now approved for sale and operations in Canada after earning the Canadian Motor Vehicle Safety Standard (CMVSS) Certification and being placed on the "Vehicle Manufacturers Registry" with Transport Canada.
Canada Motor Vehicle Safety Standards (CMVSS) prescribes the minimum performance levels that vehicles and equipment must meet to run on Canadian roads and includes several standards beyond the U.S. Federal Motor Vehicle Safety Standards (FMVSS). Evidence of a vendor meeting these standards as well as "other documents … including an Approved Motor Vehicle Safety Test Method, a Technical Standards Document, and/or another third party published test methodology, and are essential to remove ambiguities about the specified tests and testing methodologies to be used in certification testing." according to http://www.tc.gc.ca/eng/motorvehiclesafety/tp-tp12957-menu-173.htm#introduction
BYD's pure-electric bus employs many advanced technologies developed in-house by BYD's staff of more than 15,000 engineers such as the advanced environmentally-friendly, Iron-Phosphate (or "Fe") batteries, in-wheel hub motors and regenerative braking. The break-through Iron-Phosphate battery is fire-safe and non-toxic: there are no caustic materials contained in the battery, no toxic electrolytes or heavy metals and can be completely recycled. The BYD electric bus delivers a host of operational and environmental benefits for public transport riders, operators and people in the community – it is very quiet and ensures a comfortable ride without vibrations, jerks or noise associated with the conventional buses and combustion engines. The bus can also drive up to 250 km (155 miles) and even up to 30 hours in heavy city traffic on a single night-time charge. The bus has completed more than 20 million kilometers of "in revenue service" and has been evaluated in many major cities all over the world.
About BYD
BYD Company Ltd. is one of China's largest companies and has successfully expanded globally. Specializing in battery technologies, their green mission to "solve the whole problem" has made them industry pioneers and leaders in several High-tech sectors including High-efficiency Automobiles, Electrified Public Transportation, Environmentally-Friendly Energy Storage, Affordable Solar Power and Information Technology and Original Design Manufacturing (ODM) services.
As the world's largest manufacturer of rechargeable batteries, their mission to create safer and more environmentally friendly battery technologies has led to the development of the BYD Iron Phosphate (or "Fe") Battery. This fire-safe, completely recyclable and incredibly long-cycle technology has become the core of their clean energy platform that has expanded into automobiles, buses, trucks, utility vehicles and energy storage facilities. BYD and all of their shareholders, including the great American Investor Warren Buffett, see these environmentally and economically forward products as the way of the future.
BYD has made a strong entrance to the North, Central and South American markets with their battery electric buses, and lineup of automobiles. Their mission lies not just in sales growth, but also in sociological integration and local job creation as they have poured incredible investments into developing offices, dealerships and manufacturing facilities in the local communities they now call home, truly a first for Chinese companies. For more information, please visit www.byd.com
Connect with The Crittenden Automotive Library