Most Efficient, Fastest SUV Unveiled Among Top Beijing Auto Show Reveals
Most Efficient, Fastest SUV Unveiled Among Top Beijing Auto Show Reveals
BYD
April 28, 2014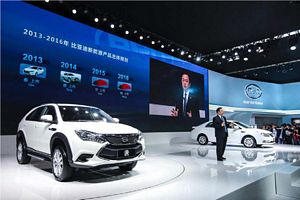 Pictured Above: BYD's Wang Chuanfu with the new G5 Sedan and Tang SUV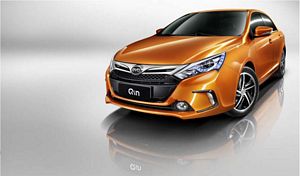 "Tang" all-wheel-drive SUV part of BYD's Green Mobility meeting new "5-4-2" initiative
"Tang" all-wheel-drive SUV part of BYD's Green Mobility meeting new "5-4-2" initiative BEIJING, PRC: The Beijing Auto Show opened this last week to record crowds and by most accounts have met all expectations. BYD Auto Ltd captured many of the media head-lines with a number of new products cementing their place as China's leading New Energy Vehicle manufacturer.
BYD started by reinforcing it's "Green Mobility" strategic vision; announcing programs both inside and outside of the vehicle for upgrading energy-saving and non-polluting technologies. Though misunderstood by many at the 2013 Auto Show, BYD's conventional car line-up is not being phased out. The BYD Green Mobility evolution applies to the conventional car and new-energy autos equally. BYD stated that "Green Mobility" harmonizes the major issues that China is experiencing for growing demand for affordable and practical vehicle designs and eliminates the need for purchase restrictions of polluting vehicles.
Outside of the car, BYD introduced the new "5-4-2 initiative" and a series of cars designed to meet this challenging performance standard. What is the 542 standard? 5 represents the maximum seconds it shall take to accelerate from zero to 100km/h (0-60 mph in less than 5 seconds) in future car models. This redefines BYD's car acceleration standard. 4 stands for the number of wheels under power. BYD's future new energy cars will be integrated with all wheel drive. 2 stands for the number of liters of gasoline maximum that shall be consumed for 100km traveled in a BYD car. BYD cars will consume less than 2L gasoline/ 100km. This is a revolutionary breakthrough when considering that the first vehicle BYD launched to achieve this at the show was an SUV class where even the most luxurious SUV's achieve barely 5L / 100 km. In the future, all BYD cars will be able to reach these "three new industry benchmarks". The first 5-4-2 vehicle was also released at the show, the Tang, (pronounced "Tah-ng"), is a sport utility vehicle that can accelerate from 0 to 100km/h in only 4.9 seconds, has a 2.0L Turbo-charged engine paired with two electric motors and consumes less than 2L of fuel in 100 km traveled.
Last year, the BYD Qin was launched in the market with a racing competition in Beijing. Qin beat 19 cars including a Porsche 911, and GOLF GTI and some other well-known vehicles accelerating from 0 to 100km/h in only 5.9 seconds. BYD Chairman Wang Chuanfu stated that when the Tang is launched in Beijing this year, there will be another race. If any challenger of any standard-stock luxury class Car beats Tang, BYD will provide a reward of 10,000 RMB per challenger. Tang has two modes for 4WD and four driving modes. In EV mode, it applies "All-time" 4WD with zero fuel consumption. In HEV mode, it applies "Real-time" 4WD and consumes less than 2 L for 100 km traveled. In 2016, BYD has already announced that they will reveal a super-hybrid, the "Ming" that will be powered by 4 independent, in-wheel driving motors, which can make one wheel steering forward while one wheel steering backward on opposite wheels to rotate literally in place. "This is not just a dream. In the electronic era, we can do things we couldn't do in the mechanical eras.", Chariman Wang stated. Tang this year, and Han for 2015, Ming for 2016 – all these future BYD cars will meet the 542 standard. The 2014 QIN was launched in only two Chinese city markets (Tianjin and Shanghai) yet it became the top selling New Energy cars in all of China with sales just under 2000 units per month now (3000 achieved in first 3 months).
About BYD
BYD Company Ltd. is one of China's largest companies and has successfully expanded globally. Specializing in battery technologies, their green mission to "solve the whole problem" has made them industry pioneers and leaders in several High-tech sectors including High-efficiency Automobiles, Electrified Public Transportation, Environmentally-Friendly Energy Storage, Affordable Solar Power and Information Technology and Original Design Manufacturing (ODM) services.
As the world's largest manufacturer of rechargeable batteries, their mission to create safer and more environmentally friendly battery technologies has led to the development of the BYD Iron Phosphate (or "Fe") Battery. This fire-safe, completely recyclable and incredibly long-cycle technology has become the core of their clean energy platform that has expanded into automobiles, buses, trucks, utility vehicles and energy storage facilities. BYD and all of their shareholders, including the great American Investor Warren Buffett, see these environmentally and economically forward products as the way of the future.
BYD has made a strong entrance to the North, Central and South American markets with their battery electric buses, and lineup of automobiles. Their mission lies not just in sales growth, but also in sociological integration and local job creation as they have poured incredible investments into developing offices, dealerships and manufacturing facilities in the local communities they now call home, truly a first for Chinese companies. For more information, please visit www.byd.com
Connect with The Crittenden Automotive Library