BYD Receives Prestigious Hong Kong Green Tech Award,Only Automotive Manufacturer to receive the 2014 "U Green Award"
BYD Receives Prestigious Hong Kong Green Tech Award,Only Automotive Manufacturer to receive the 2014 "U Green Award"
BYD
May 16, 2014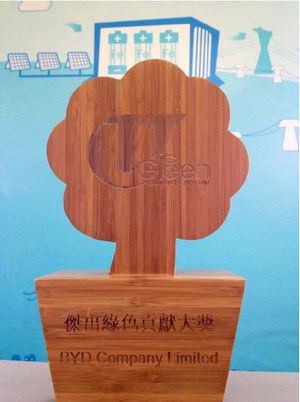 Pictured Above: BYD's 2014 U Green Award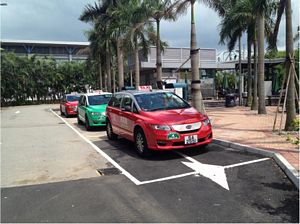 Pictured Above: Three of Hong Kong's e6 Electric Taxi Cabs
HONG KONG -- BYD Company Ltd. has been named alongside technology giants Samsung Group and Philips yet again. This time, for their innovative steps towards a cleaner tomorrow. On May 8th BYD was a recipient of the U Green Award, presented by the Hong Kong Economic Times Group's U Magazine. This award is quite significant due to the fact BYD Company Ltd. was the only automotive group recognized.
This year's awards took on the theme "Green Ideas", and from BYD's Green City Solution and Future Village concepts, to the electrified taxi program they are currently operating in Hong Kong, they were an obvious selection for the 2014 awards. Over the past year BYD has made a strong entry to the Hong Kong market implementing their world renowned electric taxis, and have already saved the city more than 575 tons of carbon emissions. The 2,240,000 kilometers travelled over the past year make up the equivalent of planting nearly 300 trees in the middle of Hong Kong. BYD will continue to implement the e6 taxi in as many fleets as possible and help the city join other global epicenters such as London, New York and Los Angeles in the Clean Air Movement.
The BYD e6 is a pure-electric utility cross-over that BYD has been successfully marketing to fleet operators around the world since 2011. With an operational range of more than 186 miles per charge and room to seat five passengers plus luggage, it has carved out a niche as the go-to pure-electric taxi now operating in Shenzhen, New York, London, Hong Kong, Nanjing, Xi'an and Bogota, to name a few. Utilizing the same fire safe Iron-Phosphate "Fe" battery chemistry as the electric buses, BYD only expects to sell more and more of these vehicles as fear of battery safety continues to rise around the globe.
About BYD
BYD Company Ltd. is one of China's largest companies and has successfully expanded globally. Specializing in battery technologies, their green mission to "solve the whole problem" has made them industry pioneers and leaders in several High-tech sectors including High-efficiency Automobiles, Electrified Public Transportation, Environmentally-Friendly Energy Storage, Affordable Solar Power and Information Technology and Original Design Manufacturing (ODM) services.
As the world's largest manufacturer of rechargeable batteries, their mission to create safer and more environmentally friendly battery technologies has led to the development of the BYD Iron Phosphate (or "Fe") Battery. This fire-safe, completely recyclable and incredibly long-cycle technology has become the core of their clean energy platform that has expanded into automobiles, buses, trucks, utility vehicles and energy storage facilities. BYD and all of their shareholders, including the great American Investor Warren Buffett, see these environmentally and economically forward products as the way of the future.
BYD has made a strong entrance to the North, Central and South American markets with their battery electric buses, and lineup of automobiles. Their mission lies not just in sales growth, but also in sociological integration and local job creation as they have poured incredible investments into developing offices, dealerships and manufacturing facilities in the local communities they now call home, truly a first for Chinese companies. For more information, please visit www.byd.com
Connect with The Crittenden Automotive Library